The Flint Water Crisis Isn't the Only Water Crisis — One in Louisiana Goes Back 10 Years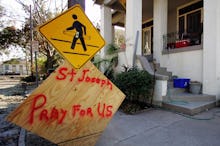 Omar Torres/Getty Images
With the national spotlight on the water crisis in Flint, Michigan, residents of other American cities are beginning to raise the alarm over unclean water in their own communities. One city in particular is St. Joseph, Louisiana. In this predominately black, low-income town, residents were advised to boil their drinking water due to problems with the aging water system in 2012. Residents have been under a generally consistent water advisory ever since. 
Although the water advisory was later lifted, residents are still complaining about chalky, discolored water in washing machines, sinks and bathtubs. "If you think the #flintwatercrisis was an isolated event, you'd better think again," a tweet with a photo of what seems to be discolored water from the impoverished town reads. "This is water from St. Joseph, Louisiana, and this is what the water looks like now." St. Joseph, which has a population of 1,176, according to the 2010 Census, is 77% black. 
Read more:
According to residents, the town's water infrastructure has been a source of discontent for over a decade. "It's been like this for 10 years," Rebecca Vizard — who runs B Viz Designs, a pillow-making business just outside of St. Joseph — told Mic. "You can't wear white clothes because if you wash your white clothes, the water turns them tan or beige. All of the toilets, sinks in town are stained brown."
According to Vizard, the small community that once had a population closer to 3,000 now has a population of "about 1,100 or so." Vizard said the population has gone down about two-thirds since she moved back 30 years ago.
According to a petition launched on the White House website, which calls on President Barack Obama to declare a federal emergency for St. Joseph, St. Joseph is the poorest community in the state, with nearly 40% of the population coming in below the poverty line; census estimates put that number closer to 33%.
"If living conditions were better, more people would live here, and the community would thrive," Vizard, who grew up in the St. Joseph area, told Mic. "It's hard to believe that this is the United States we live in."
"It's hard to get any business to move here, or to get people want to move here. ... It's embarrassing," Vizard said.
The people who can afford to do something about the water crisis are putting filtration systems in their homes, but Vizard said there doesn't seem to be much help coming from the local government. 
"Sometimes in these small, impoverished communities, it seems like the local government is either unable or just can't help." Vizard told Mic. "I don't know what is causing progress to be diminished, but the amount of help... something is wrong that we haven't been able to get help. I don't want to point fingers, but something's wrong."
Garrett Boyte, a member of the Episcopal Diocese of Western Louisiana, a religious group, recently told local news outlet the News?Star that the water crisis was exacerbated by problems in the town's main water line. 
Despite Democratic Sen. Francis Thompson's request of over $6 million in funds to be dedicated to fixing the water system, the town has not submitted necessary records to the state office for the town to receive funds.
"State law requires all local reports within six months of the end of the fiscal year," First Assistant Legislative Auditor Tom Cole told the News-Star. The legislative auditor's office has only received a town audit for the 2014 fiscal year, but has not received an audit for the 2015 fiscal year.
"National media have now picked up the story about our water situation and how an entire generation hasn't had clean water," Boyte wrote in a tweet to John Bel Edwards, current governor of Louisiana. 
The mayor's office did not immediately respond to Mic's request for comment on the water crisis.