Female Plus-Size Models Are on the Rise. So Where Are All the Plus-Size Men?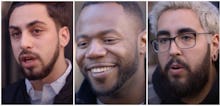 Flip through any fashion magazine, peruse any catalog or look up at any billboard, and you'd think that the media has completely forgotten about the "plus-size" man. Sure, you can see bigger guys in ads for, say, Miller Lite or Doritos, or movies where he plays the fool. But where are the bigger guys who are seen as fashionable, or even admirable? And why don't we actually use the term "plus size" for them?
So we asked a few men on the streets of New York City and throughout the fashion industry: Why aren't we seeing "plus-size" men?
What size is a "plus-size" man? 
It's an incredibly complicated question. For both men and women, there isn't exactly a clear definition of "plus size," but the assumption is it refers to anything larger than average. According to the Center for Disease Control and Prevention, the average American male's waist measures 39.7 inches. As NPR notes, that means the average pants size for guys would be around a 38, 39 or 40. 
And yet Edward Gribbin, president of an apparel fit and sizing consultancy called Alvanon, told NPR the best-selling pants size for American men is a 34. That means the clothing industry is likely to treat 34 as the average, rendering anything above it "plus."
"I think a plus-size guy at the every least is a 38- to 40-inch waist," Jamaal Carroll, the founder and designer of the big and tall brand Oublier, told Mic. "The height can vary. I like to have my models to be at least a 42/44 even." 
Spencer Salley, a senior agent at New York Models, had a slightly higher estimate.
"Well, the normal size is 38 to 40 suit size, so it would probably be anything over that," Salley told Mic. "I think you'd have to be substantially over that to be qualified as plus."
So men are seen as "larger" by clothing companies when they're actually closer to average, similarly to women: For women, the plus-size minimum is usually around a 12 or 14, which just so happens to be the national average size for American women. According to Carroll's assessment, a plus-size guy's measurements are right around the national average as well. 
The key difference between men and women, however? We don't usually refer to men as "plus size" — especially because we don't see men out there in the fashion world who would even qualify.
Women not only have "plus-size" clothing, but also a rising group of outspoken so-called "plus-size models" who represent what bigger women can look like. But the term "plus-size male model" barely exists. 
Come to think of it, men of New York, have you ever seen a guy in any magazines, catalogs or billboards you'd consider to be plus size? 
Why don't we see as many bigger bros modeling?
There are bigger men who are modeling, what we might consider "plus-size male models," just in very, very small numbers. Why? It has a lot to do with clothes — both the clothes regular men wear, from the likes of J. Crew or Banana Republic, as well as high-fashion clothes that walk down runways.
On the practical level, companies cast models when they have clothes they need to advertise. For plus-size women, there are now bikinis and activewear and dresses and lingerie and everything under the sun (whether they're actually high quality or not). Meanwhile, there are very few specified garments for bigger guys at all. 
"There's only certain places larger guys can go to shop, and then women have everything from lingerie, dresses and designers," Salley said. "For men, it's big and tall stores."
And Carroll, who founded and designs for his very own big and tall brand, agrees. "One reason is that nobody makes clothes for them," Carroll said. "It's just not there." 
Unlike plus-size establishments like Torrid or Lane Bryant, big and tall stores aren't known to be cool or trendy. A Google search for "big and tall stores" reveals that most of are small, independent shops, or mere departments in stores like Macy's and JCPenney's. Besides overall accessibility, the problem is that the stores or departments often don't cater to young, hip, fashionable people at all. 
"It's definitely aged," Carroll said. "A big and tall store feels like you're shopping for your father or uncle." For Carroll's brand in particular, his goal was to bring contemporary, high-quality, stylish basics to the 5X set. 
High fashion isn't any better. On Fashion Week runways and in ads for the likes of Gucci or Burberry menswear, an "average"-sized guy is even harder to come by.
"On the runway, it would be a shock factor or conversation piece. It's not readily available for them and [the designers] don't really care," Carroll said. 
Instead, fashion designers often seem to stick with a narrow definition for men's bodies — and real men notice.
"The men's fashion industry is like this fantasy," Kelvin Davis, a body-positive blogger and self-identified plus-size model, told Mic. "The 'V' abs and the ripped-up chest. I think they're nervous of losing some of that fantasy and realize that they need to get to that point when Valentino is having regular-looking guys. I think they're trying to sell something else." 
But there is a trickle-down effect — men's Fashion Week runways, absurd as the clothes might be, are important.
Why do plus-size male models matter? 
Models matter, in short, because they set and showcase standards. And unsurprisingly, many men have body insecurities just like women.
"There's not many males that talk about it, even though I feel like there are lots of males that feel the way we do," Carroll said. "I know many guys that have felt that but as a man, society just says shut up and deal with it. You're supposed to deal with no clothes being made for you."
For young boys in particular, there's an increasing rate of unhappiness or and concern with their appearance. According to a 2014 study, nearly 18% of boys were "highly concerned" about their weight and physique. But many statistics for male body image go unreported.
"I think that the societal standard is that men aren't supposed to complain about their weight and complain about stuff not fitting," Davis said. "Men aren't expected to be vocal about that type of stuff and women are, so I feel like that's the reason why the female plus-size thing has taken off, because women have spoken up."
Slowly, more men and menswear companies are starting to. That's why, when shorts company Chubbies held a contest to find 10 models for their brand, they specifically called for men of all ages and sizes.
"We had thousands of applicants and people who were really, really exited about what we were doing," Chubbies co-founder Tom Montgomery told Mic. "First and foremost, this was a call for customers and fans of the brand."
Kelvin Davis was one of the men who ended up winning a spot in a Chubbies ad campaign, released in November. It was Davis' first time as a professional model after blogging for nearly two years about body positivity on his blog Notoriously Dapper and on Instagram, where he has more than 32,000 followers. 
"It's working for them because their clientele looks like the guys that model them," Davis said. "We are all so different but we are like what the American man is." 
The other brand noticed for using a plus-size male model is Target, which employed Zach Miko to model its XL tall shirts and pants. Standing at 6 feet, 6 inches with a 40-inch waist, Miko is the type of regular man so many of us can identify. 
"I don't give a shit if I ever have ripped abs and look like an Abercrombie and Fitch model," Miko told Mic in October. "I never want that."
Much like the Chubbies ad, Target's inclusion of a plus-size male model got people talking — and gave men like Miko and Davis a platform to talk about their own body struggles and the clothing issues they face, which are rarely heard.
"It'll be something like football players or someone with notable big guys taking a stand for it," said Carroll of Oublier. "Even actors or any big guy with notoriety voicing their opinion." 
In the meantime, the few models who are out there are making their voices heard.
"Even if me and Zach are the only ones three years down the road, I have no intention of stopping anytime soon," Davis said. "I have no intention of stopping until something happens. I will be the breaking point and somebody will break."