Turns Out Bridesmaids Dresses Don't All Suck Anymore — If You Know Where to Go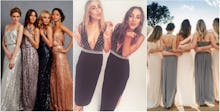 When 31-year-old Subi Ghosh started planning her wedding, she had one top priority for her bridesmaids. She had been a bridesmaid in a nightmarish dress in the past, she told Mic, and she swore she wouldn't make her friends go through the same thing.
Ghosh isn't alone in enduring a bridesmaid dress disaster. The bridesmaid dress has become one of the most dreaded of all garments, subject to a level of loathing that women typically reserve for bras or swimsuits.
And yet bridesmaid dresses are an inescapable reality for so many grown women. According to The Wedding Report, a research firm, American brides averaged four bridesmaids in 2012, and the average spending on a bridesmaid dress was $136. That means there was over $1 billion spent nationwide on bridesmaid dresses, making it a massive industry that doesn't show signs of disappearing anytime soon.
But there are some positive signs that bridesmaid dresses are getting better... if you have a bride who goes out of her way to find them.
A dress you don't need to keep: "It seems like the bridesmaid space is kind of the stepchild of fashion," Corie Hardee told Bloomberg Business. "Because it's kind of an afterthought."
That neglect has made room for innovators like Hardee, who is the founder of Union Station, a bridesmaid dress rental business. Weddington Way is another one, as is Vow To Be Chic, founded by Kelsey Doorey.
Doorey told Mic she started her business after years of seeing men simply drop $100 on rental tuxes then go on their merry groomsmen way with much less of a headache than she was experiencing as a repeat bridesmaid.
That tux rental business, she said, is a $3 billion one, with little female equivalent — even though around 86% of bridesmaids don't wear their dresses more than once, Doorey said, based on an average of several surveys. After doing her research, she also realized that few bridal designers in New York City had an ecommerce presence; so many Pinterest boards are filled with links to dresses with no prices.
Vow to be Chic has only been live for a year but is doubling its numbers every month.
"Men have been renting their tuxes for decades. Bridesmaids finally have this as a solution," Doorey told Mic. "Through the use of technology and the internet, we are able to deliver the bridesmaid dress purchasing process in a millennial-friendly way: efficiently, easily and stress-free manner."
A dress that's actually kinda trendy: Of course, the bridesmaid rental business is still new and hasn't quite taken over the full bridesmaid business. Margo Fischer, the owner of Bright Occasions, a Washington, D.C.-based wedding planning firm, told Mic that out of her 20 clients in the past year, only one or two utilized dress rentals.
But she has seen the dresses get more interesting and varied, she said; prints, for example, are becoming more and more popular. That's thanks to a widespread shift to become more modern and trend-focused, something seen with both the traditional bridal companies like Donna Morgan and newcomers like Anthropologie's Bhlden and J. Crew's popular bridesmaid collection.
Just take Fame and Partners, a formalwear company that allows bridesmaids to customize their dresses on a website that feels more like an Instagram fever dream than a bridal site. Fame and Partner's "Besties and Bridesmaids Dresses" feature big floral prints, or sexy straps, or high slits, and even two-piece options. Dresses with lace sleeves or sheer cutouts are easier to imagine walking down the Oscars red carpet — or a fashionable rooftop party— than walking down an aisle.
"Even five years ago, the bridal market as a whole looked quite different," Lauren Sherman wrote in Racked in June. "Designers and retailers alike, at all ends of the price spectrum, feared sleeves, short hem lengths and colors other than stark white. Today, things are different."
Even David's Bridal is getting trendier. The company — which told Racked it accounts for about 28% of the U.S. bridesmaid dress industry — has gotten a makeover with a new designer and a new fashion-forward vision that recognizes trends like, say crop tops or pockets.
"Designers are mimicking pretty styles you see on the red carpet and runways," Lynda Raymond, the owner of Something Special Bridals in Wyckoff, New Jersey, told Mic. Because of that, she said, "The days of wearing a bridesmaid dress once are long gone."
But it takes a bride who's loosened up: Except, well, plenty of bridesmaids dresses are still super traditional. Many brides continue to gravitate toward chiffon, the most ubiquitous fabric. Doorey of Vow to Be Chic told Mic that when she sat down to work with bridal designers for her site, they pretty much all featured the same four or five top colors, including the inescapable blush pink.
As a bridesmaid, you can only work with what the bride wants. She may be down to try a forward-thinking rental site like Vow to Be Chic, or be into the idea of flowy floral-printed dresses that everyone can keep wearing for summers after. If she wants to keep things traditional, on the other hand, there are still countless chiffon pick-a-color dresses from the likes of Alfred Angelo, Watters and Bill Levkoff just waiting to get bulk-ordered.
Perhaps it's up to the bridesmaids to inform (er, gently nudge) the bride to see what else is out there aside from a floor-length dusty rose dress suited for a romantic comedy.
Correction: Feb. 1, 2016