The Best Apps for Editing Instagram Pictures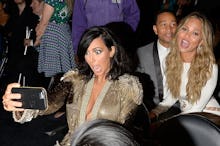 Lester Cohen/Getty Images
If you're about to drop a fire selfie on Instagram, don't even think about using any of the social media service's filtering options. The photo-sharing app has extended its variety of filters over the years, however, the bulk of them leave photos looking too heavily edited, with unoriginal aesthetics that make it easy to tell whether someone opted for "Valencia" or "Lomo-Fi."
Meanwhile, there are a plethora of photo-editing apps capable of turning a bland photo into a piece of art. From apps with the perfect selfie lighting to the quintessential "Photoshop for iPhones," the Apple App Store boasts an incredible variety of apps to choose from to tweak the perfect picture for Instagram.
Read more: 
Here are some of the best photo-editing apps to use on your next picture to ensure it reaches the coveted double-digit numbers in likes. Side-by-side photos reveal the general effects each app has on the standard selfie.
Microsoft Selfie
Yes, Microsoft made an app for the iPhone. The company's high-tech app is specifically for selfies and uses software to pick up on a user's skin tones, gender, general age and the lighting of the environment in order to concoct the perfect photo. Microsoft Selfie automatically softens the skin and features adjustable lighting fixes as well as a series of other contrast effects that can certainly brighten up a photo.
VSCO Cam 
Arguably one of the most popular photo-editing apps for the iPhone, VSCO has branched out, becoming its own social media app in which users can share their edited photos directly through the service. Those who would like to adjust their skin tone as well as use any of the app's much more unique filters can also simply share the photo to Instagram through VSCO. The app offers several filters that create a much more artistic feeling than any on the 'gram.
Enlight
Enlight isn't free, and with the scope of features this app offers, it shouldn't be. This photo-editing app offers more editing options than many of the standard editing apps, and way more than Instagram could ever dream of. Among the countless options to choose from, Enlight users can adjust the coloring of any photo; use multiple filters at once; combine images and merge them into one artistic piece; contour a face and adjust the size of bodies; and plenty more. Enlight is essentially the iPhone's version of Photoshop.
Facetune
Facetune is quite dangerous: The photo-editing app offers the capability for users to erase virtually any flaw they can think of in a picture, from a spot on a camera lens to the extra 10 pounds cameras are known to add in photos. Users are given the option of "resizing" photos, which allows someone to shrink the size of their bodies to minuscule proportions while still looking oddly realistic. Just don't get caught. With Facetune, users can also brighten their faces, whiten their teeth and soften their skin (all pictured below).