Plumbers From Across the United States Traveled to Flint to Fight the Water Crisis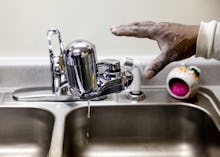 Hundreds of plumbers from across the United States traveled to Flint, Michigan, to install water filters in the homes of embattled residents on Saturday. It's a heartwarming episode in what has otherwise been a nightmare saga for the city of 99,000.
The project was coordinated by the United Association of Journeymen and Apprentices of the Plumbing and Pipe Fitting Industry, the nation's oldest plumbers' union, according to ThinkProgress. In partnership with Plumbers Manufacturers International — which donated most of the parts and equipment — more than 300 union members went door-to-door installing filters for free in an estimated 800 homes, according to a news story included in a United Association press release.
"It just goes to show how giving American people are," Lawanda Asa, a 70-year-old Flint resident, told MLive. "People that don't even know us, have never heard of Flint before are at our side. We're so very blessed that the American people have such big hearts."
For many people, these filters are a game-changer. Ever since May 2014 — when Flint residents started complaining about filthy brown liquid coming out of their faucets in lieu of clean drinking water — a local health emergency has morphed into a full-blown crisis, with National Guardsmen being deployed across town to pass out free bottled water and calls resounding across the country for Michigan Gov. Rick Snyder to face criminal charges.
Officials have also been passing out filters for residents to attach to their faucets. The problem is some faucets are so old the filters don't fit, not to mention the lead content is so high in some places that they won't do much anyway. Still, ThinkProgress reported the filters the plumbers installed should work on most homes — offering stark relief in a city where the number of children with elevated levels of lead in their blood has nearly doubled since Flint changed its water source.
Meanwhile, President Barack Obama has declared a state of emergency in the city, and a growing number of locals, celebrities and supporters have donated water and coordinated aid efforts to help residents. 
It all started in 2014, when Flint switched water sources from a purchase arrangement with Detroit to sucking from the dregs of the hypercorrosive Flint River. The river water — intended as a temporary source while a pipeline between Lake Huron and Flint was completed — ended up eating away at the city's old pipe system and releasing lead into the water as it entered homes across town.
Now, as the city and state scramble to stanch the bleeding, Flint residents are getting an outpouring of support from indignant observers across the U.S. The effort of the 300-plus plumbers who converged on the city to install filters is but one example of the many Americans outraged — and moved to action — by what's happening in Michigan.
Neither Genesee County (Michigan) Sheriff Robert J. Pickell nor the United Association returned Mic's requests for comment.
h/t ThinkProgress