Someone Offered Iowans $25 an Hour to Pretend They Like Jeb Bush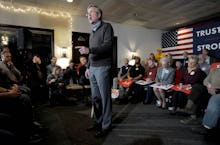 Someone is offering Iowans good money to attend rallies for faltering Republican presidential candidate and former Florida Gov. Jeb Bush ahead of Monday's presidential primary caucuses — but no one really knows who.
According to Vice News, it was during a Bush campaign event at a hotel in Des Moines when a man shouted out, "We've been here for two and a half and haven't gotten paid yet! Where's that $50?" The man was apparently referring to fliers promising Des Moines residents $25 an hour to fill seats at a Bush event. A reply from the email address listed on the flier only informed prospective attendees they would be paid "on exit."
It remains unclear whether the promised payout ever actually happened
There is no evidence the organization listed on the flier, Dale Herbert Events, is a legitimate company. Mic reached out to the address on the flier and received the following email statement, signed "Dale Herbert":
"We would like to make clear that what happened earlier today is not indicative of the high standards we hold at Dale Herbert Events. Rest assured, this incident was just a result of poor communication. These two gentlemen will be paid for their time in full, but will not be rehired by DHE."
The statement declined to provide information on the "two gentlemen" it referenced.
After a Marco Rubio staffer posted a photo of the mysterious flier to Twitter, Bush spokeswoman Kristy Campbell tweeted her suspicion that the handouts were the work of Conservative Solutions PAC, which backs the Rubio campaign.
If the fliers were indeed a hoax, whoever was behind it wanted to kick Bush while he's already down.
Both Rubio and Bush poll far behind current frontrunner and real-estate billionaire Donald Trump, though Bush is polling particularly poorly in Iowa, tying for fifth place with Kentucky Sen. Rand Paul in an average of polls kept by RealClearPolitics.
The two politicians' once-friendly relationship from their days serving together in the Florida state government has soured amid a savage, multimillion-dollar ad war designed to crush the other's chances of clinching the nomination.