'Swish' vs 'Waves': Kim Kardashian Asks Fans Which Title Is Better for Kanye's New Album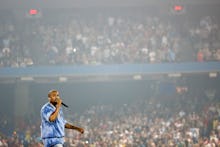 Julio Cortez/AP
As if the idea of title changes hadn't already rocked fans three times over and sent publications scrambling to keep up with the latest on Kanye West's upcoming record, the rapper's wife, reality TV star Kim Kardashian West, reignited the conversation on Monday. In a poll shared to Twitter, Kardashian West asked fans to weigh in on the upcoming release by voting for their favorite tile for the album, Swish or Waves. 
Read more:
She then followed up with another poll, which included So Help Me God, which was the first title for the album. 
As of about 3:30 p.m. Eastern, 1,866 people had participated in the poll and the response was evenly divided, with 32% of those who responded voting that Waves was the preferred title, compared to 33% who voted for Swish and 35% who voted for So Help Me God.  
Yet rather than voting, or perhaps in addition to voting, some users reacting to the poll on Twitter had some ... opinions. 
Monday's post follows the veritable tweet storm West waged last week. After having announced his decision to change the title of his upcoming album from Swish to Waves, the rapper butted heads on social media with fellow rapper Wiz Khalifa, who implied Yeezy stole the title from Harlem rapper Max B, who is currently behind bars.
Waves or Swish or So Help Me God, or whatever other title West dreams up, is expected to be released on Feb. 11. According to a photo of a handwritten track list, which was shared to Twitter, here are the tracks that may appear on the album: 
1. "Nina Chop"
2. "Father Stretch My Hands Pt. 1 & Pt. 2"
3. "Waves"
4. "High Lights"
5. "30 Hours"
6. "No More Parties in LA"
7. "Fade"
8. "FML"
9. "Real Friends"
10. "Wolves"
11. "Ultra Light Beam"