Super Bowl Start Time, Channel and Date for the Carolina Panthers vs. Denver Broncos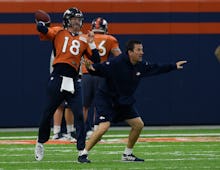 John Leyba/Getty Images
The Carolina Panthers and Denver Broncos will face off at the 50th annual Super Bowl NFL championship game Feb. 7 on CBS. The game will kick off at 6:30 p.m. Eastern Sunday at Levi's Stadium in Santa Clara, California, and will broadcast on CBS and livestream online at CBS Sports for those who don't have cable. 
Read more:
A trailer for the highly anticipated sports showdown pins Broncos quarterback Peyton Manning against Panthers quarterback Cam Newton. Both players were first picks when drafted to the NFL. 
Coldplay and Beyoncé will perform during the game's halftime show — and it's rumored that Bey could drop a surprise album during the anticipated mini-concert. The two will perform their collaborative "Hymn for the Weekend," according to Entertainment Tonight, a track featuring Bey off Coldplay's latest album Head Full of Dreams.