How Many Instagram Selfies Is Too Many?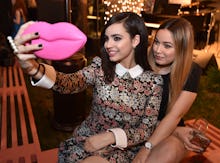 Jordan Strauss/AP
Some of us "millennials" certainly enjoy documenting various aspects of life through social media, with photo-sharing apps like Instagram allowing us to grow followings and connect with users across the globe. Then, there are some of us who enjoy turning that front-facing camera on and spending endless hours taking the perfect selfie, sometimes uploading multiple a day to social media. Well, studies are beginning to reveal that's not too healthy a hobby — go figure. 
Let's start off with the basics: unless you're Kylie Jenner or Kim Kardashian West, there isn't ever any need to upload multiple selfies on Instagram a day. Moreover, take it as a red flag if a friend is constantly uploading one selfie after the next — the Huffington Post reported on a Ohio State University study in January 2015 that found that uploading an exorbitant number photos of oneself to social media could be a sign of narcissism and psychopathy.
Read more:
Furthermore, too many selfies could be detrimental to someone's relationship, according to research from Florida State university. Not only that, but if an Instagram user is uploading selfies constantly, their happily-ever-after could secretly be a mess behind closed doors. 
"The results show that body image satisfaction can be detrimental to Instagram users' romantic relationships," researchers Jessica Ridgway and Russell Clayton told HindustanTimes. "Especially when users' body image satisfaction is promoted in the form of Instagram selfie posts."
Another study shows some users who upload countless selfies could quite literally be psychopaths and narcissists. It might be easier to point out someone who is deranged from someone who is simply into themselves: the study's lead author Jesse Fox said psychopaths on Instagram aren't concerned with editing photos as much as they are hoping to be seen by the masses. 
"That makes sense because psychopathy is characterized by impulsivity," Fox said in a statement.  "They are going to snap the photos and put them online right away. They want to see themselves. They don't want to spend time editing."
How much is too much?
There isn't necessarily a specific number of selfies which are considered too much by the general community on social media. Still, there are some important internet customs to remember:
1) Don't upload more than three photos in one day to Instagram. The only exception, of course, being on your birthday. Spam away on your day of birth.
2) If you're going to take a selfie, make sure it's good. Consider using one of many photo-editing apps to brighten your photo, soften up any flaws and get all the likes. 
3) Don't edit too much. There is a very fine line between fixing up a mediocre photo and turning it into selfie gold, and turning it into a photo shopped mess. Only one person can get through the embarrassment of having their photo shopped images exploited, and that's Beyoncé.