Sorry Wegmans Groupies — That $200 Coupon Is a Load of Bull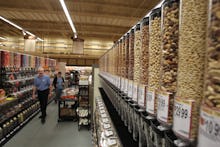 More often than not, things on the internet turn out to be too good to be true. (For example, we still haven't figured out how that stay-at-home mom makes $8,000 a month with one simple trick.) 
On Monday Wegmans shoppers got their own such lesson when the supermarket chain announced a $200 coupon floating around Facebook was fake.
"Please be aware of a false $200 coupon offer on Facebook," the Rochester, New York-based company tweeted from Wegmans' official account. "This is neither affiliated nor supported by Wegmans." According to WTVR, the situation came to light when an employee wondered about the post's validity.
The news is a killer for the chain's fervent loyalists, who have formed a cult-like fandom around the store. New Yorkers almost lost it when Wegs announced in May it was coming to the Brooklyn Navy Yard, and Tumblr bloggers have long documented the their hauls from what they call the "mecca" of grocery stores. In an interview with Grub Street, one fan even waxed poetic about seeing his first black truffle IRL at a Wegmans. Because you never forget your first.
Wegmans is working to resolve the issue, but customers should tread lightly in the meantime. WTVR reported vice president of media relations Jo Natale warning, "We're actively working to have this fraudulent post removed from Facebook. We urge consumers not to click it, share it or provide any personal information."
Alas, at least for now, shoppers will have to find other means to get their hands on those celebrated Wegmans black truffles.