The 7 Best Apps for Editing Facebook Pictures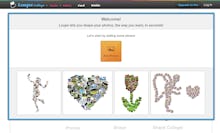 Loupe
Social media profiles are our online selves, so it makes sense that we want them to look as good as possible, especially when it comes to our photos. Here are some of our favorite apps for editing and tweaking Facebook photos so you can make them look their best.
Read more:
1. Loupe
Loupe allows you to organize your photos into a collage in any shape you want, which is pretty cool. Plus, it's available for iOS and as a desktop app.
2. Aviary
Aviary is a photo-editing app available for iOS, Android and as a Facebook app. Its sleek design makes it easy to use, and the app currently boasts "15 billion photos edited" and counting.
3. PicMonkey
PicMonkey does a lot — it lets you make collages, edit photos and even add fun frames or text. PicMonkey is only available for desktop, but they promise mobile versions are in the works.
4. Snapseed
Snapseed is a photo-editing app made by Google, and available for both Android and iOS, and it offers a bunch of filters and tools for perfecting your next profile picture.
5. AfterFocus
AfterFocus is an app without a ton of features, but it does some pretty cool things that other apps might not be able to. AfterFocus lets you create a blurry background while keeping your subjects in focus, among other tools. It's available for iOS and Android.
6. Facetune
If selfies are your thing, then Facetune is the app for you. Facetune is perfect for retouching portraits and selfies, with tools for smoothing complexions and blemishes and adjusting lighting to make you look your best. It's available for iOS and Android.
7. PicsArt
PicsArt is a photo-editing tool for making art of your photos, perfect for designing your ultimate Facebook cover photo. PicsArt is available for iOS, Android and Windows phones.