Future Is Releasing a New Album — Here's What We Know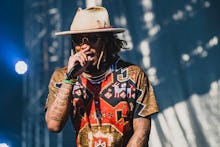 Jeff Lombardo/AP
Not long after the release of his latest mixtape Purple Reign, fans will likely be delighted to hear that rapper Future will be dropping a new album on Friday, according to DJ Khaled. 
The inspirational DJ posted the announcement on his Instagram page Monday, writing, "Big cloth alert! Mogul talk! Just signed a new deal with Apple Music. We the Best Radio and TV debuting this Friday at 8 p.m. Eastern/5 p.m. Pacific! World premiering the new Future album this Friday!"
Read more:
The album will debut on Khaled's Beats 1 radio show, titled We the Best Radio, airing at 8 p.m. Eastern. No details have been announced regarding the album title.
The Atlanta native made noise in 2015 with the success of mixtapes Beast Mode, 56 Nights and Dirty Sprite 2. The "March Madness" rapper is gearing up for the Purple Reign tour with Ty Dolla Sign in February, according to Pitchfork.
Future also made an appearance with another Atlanta rapper, Young Jeezy, at the Carolina Panthers and Arizona Cardinals playoff conference game to support Cam Newton, who also hails from the Atlanta area.
Feb. 1, 2016, 7:22 p.m. Eastern: This story has been updated.