When Is the Next Primary? Dates for New Hampshire, South Carolina and More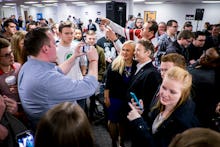 Pete Marovich/Getty Images
With the Iowa caucuses underway, many voters are curious as to when the next primaries will be, and where. The New Hampshire primary, which is also termed the "first-in-the-nation primary," will be Tuesday, Feb. 9. 
The South Carolina primary takes place on two different dates, shortly after the New Hampshire primary. The Republican primary date is Feb. 20; the Democratic primary is Feb. 27. The South Carolina primary has been termed the "first-in-the-South" primary, as it is the first primary to occur in the Southern U.S. South Carolina has maintained this status since 1980.
Read more:
Several primaries will occur in March, with the state of Louisiana heading to the polls on March 5. Idaho, Michigan, and Mississippi will be holding the primaries on March 8. Florida, Illinois, Missouri, North Carolina and Ohio voters will go to the polls on March 15, with Arizona and Utah ending the March primaries on March 22.
Wisconsin begins the April primaries on April 5, with New York voters heading into the polls on April 19. Five states — Connecticut, Delaware, Maryland, Pennsylvania and Rhode Island — will be holding primaries on April 26. 
Indiana will head to the polls on Tuesday, May 3. West Virginia and Nebraska are planning on holding the primary on May 10. On May 17, Oregon and Kentucky will head to the polls, and the state of Washington will round the May primaries out on May 24.
California, Montana, New Mexico, New Jersey and South Dakota will begin the June primaries on June 7, with the final primary on June 14, in the District of Columbia.