The 5 Most Unusual Places to Stay in the World that You Can Actually Visit in 2016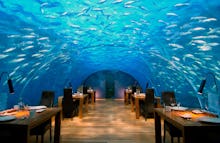 Conrad Maldives Rangali
Many people travel with the goal of broadening their horizons and seeing new places, but these destinations are especially unusual. All of these unique hotels are real-life destinations that you can actually visit in 2016 ... if you have money to burn.
Read more:
1. Conrad Maldives Rangali Island Resort 
This resort, located on an island in the Maldives, features a pretty incredible hotel restaurant: The resort's Ithaa Undersea Restaurant is located 16 feet under water, so diners can enjoy their meals as fish swim by overhead.
2. TreeHouse Point
TreeHouse Point is actually a collection of six incredible tree houses, located just outside of Seattle. A stay in one of the tree houses guarantees a visit surrounded by the sights and sounds of nature, but don't worry, the tree houses also have wi-fi.
3. Icehotel 
The Icehotel in Jukkasjärvi, Sweden, is one of the world's coolest, coldest places to stay. It's built out of snow and ice harvested from a nearby river, and guests can spend a cozy night in one of chilly rooms. But the Icehotel only exists for half the year, as the website explained, "The hotel melts and returns to Mother Nature in spring." Don't worry, it will be rebuilt again next year.
4. Amberley Castle
Ever dreamed of spending the night in a real-life medieval castle? This is your chance. Amberley Castle — outside of Brighton, England — is over 900 years old, according to its website, and still has original details like towers and turrets. The rooms on the inside are fully modern.
5. Costa Verde
Usually sleeping on a plane is super uncomfortable, but not when it's this restored Boeing 727, which is now living its best life as a suite in a Costa Rican jungle as part of Hotel Costa Verde. The best part? While you're sleeping in a remodeled plane, you can look out of your window and watch the sloths hanging around in the nearby trees.