Ted Cruz Vanquishes Donald Trump in 2016 Iowa Caucuses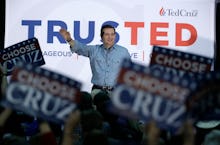 WEST DES MOINES, Iowa — Republican presidential hopeful Ted Cruz pulled out a win in Monday night's Iowa caucuses, overcoming the star power of frontrunner Donald Trump with a solid ground game operation and appeal to the conservative wing of the GOP.
The Associated Press called the race for Cruz just before 10:30 p.m. Eastern:
Cruz, who had until recently led Trump for weeks in the polls, carried the day thanks to direct appeals to the most right-leaning, faith-focused Republican voters and a hard-working army of staff and volunteers who sold them his candidacy in the Hawkeye State.
The Texas senator literally praised the Lord in his victory speech to jubilant Hawkeye State fans.
"Let me first of all say, to God be the glory. Tonight is a victory for the grassroots. Tonight is a victory for courageous conservatives across Iowa and all across this great nation," Cruz said.
"Iowa has sent notice that the Republican nominee for the next president of the United States will not be chosen by the media, will not be chosen by the Washington establishment, will not be chosen by the lobbyists, but will be chosen by the most incredible, powerful force, where all sovereignty resides in our nation: By we the people, the American people," he continued.
With 98.3% of precincts reporting, according to the Des Moines Register, Cruz had 27.7% support, compared to 24.3% for Trump and 23.1% for Rubio.
Florida's Marco Rubio finished third behind Trump in the bare-knuckled brawl.
In a hotel ballroom in West Des Moines, Trump fans decked out in "Make America Great Again" t-shirts let out a collective groan and booed as television newscasters called the night for Cruz, who had pulled together prominent right-leaning backers including Iowa Rep. Steve King to vouch for him in his final dash across the state's 99 counties.
Cruz's victory is a blow to Trump as the candidates head into the critical New Hampshire primaries: It allows Cruz to lay claim to confirmed credibility as the standard-bearer of true conservatives amidst a fight for the identity of the GOP.
The senator's win came after he weathered controversy over a set of mailers his team sent to Iowa voters ahead of the caucuses.
The literature, dressed up as an "official" communication from voting authorities that reported recipients' track records at the polls — and those of their neighbors — put Cruz on the defensive for appearing willing to literally scare up eleventh-hour support in a neck-and-neck race with Trump.
Cruz's victory over Trump the bloody battle for primacy in the Iowa caucuses had been watched closely as the first true test of whether the Manhattan real estate kingpin and novice politician could translate his celebrity and crowd-drawing capabilities into solid support from the electorate.