Early Entrance Polls: Bernie Sanders Bests Hillary Clinton Among Young Iowa Democrats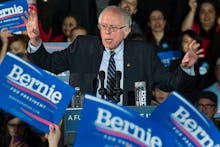 CNN's entrance polling results from the Iowa caucuses reveal that so far Sen. Bernie Sanders (I-Vt.) is crushing Hillary Clinton among at least one crucial demographic: young people.
"Democratic attendees under the age of 40 tilted heavily to Vermont Sen. Bernie Sanders, including nearly 9-in-10 voters under the age of 24," CNN reported Monday night, when a majority of precincts were reporting results for the Democratic candidates. 
Among voters at the polls over the age of 50 — who represent close to 60% of caucus-goers — Clinton was more popular.
Signs of Sanders' command of the youth vote — which can't be confirmed until after the race — isn't a huge surprise. Young voters have been key to the firebrand senator's ability to close the gap between him and Clinton in Iowa and nationally in the past few month. A recent Quinnipiac poll found that likely Democratic Caucus attendees between 18 and 44 years old supported Sanders over Clinton 78% to 21%.
Young voters are a particularly volatile voting demographic, generally more likely to have lower turnout than other age demographics, but whose participation can tilt voting contests in unexpected ways. Young voters skew liberal, and they're generally understood to be more open to political outsiders like Sanders. In 2008, then-senator Barack Obama excited and mobilized young Americans in extraordinary numbers.