Martin O'Malley to Suspend Democratic Presidential Bid After Disappointing Showing in Iowa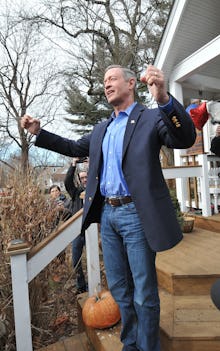 Former Maryland Gov. Martin O'Malley will exit the race for the Democratic presidential nomination after failing to register significant support in Monday night's Iowa caucuses, the Associated Press reported.
With 77% of precincts reporting, O'Malley was below 1% support, trailing Hillary Clinton at 50% and Sen. Bernie Sanders (I-Vt.) at 49%.
Though O'Malley hoped to parlay his record of progressive governance into support among Democratic voters, he never gained traction in a race dominated by Clinton and Sanders. O'Malley's withdrawal leaves Clinton and Sanders as the only two Democrats remaining in the race.
Dogged by controversies over policing practices during his tenure as mayor of Baltimore, O'Malley hoped to use the primary debates to break through, but his moment never arrived.
Still, O'Malley won accolades for rolling out a series of liberal policy initiatives, including an ambitious plan to move the United States to a 100% clean energy economy.
Though early reports do not indicate whether O'Malley will endorse an erstwhile rival, he backed Clinton in her 2008 White House bid.