Marco Rubio Makes It a Three-Man Race With Strong Showing in Iowa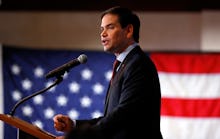 Monday was supposed to be Donald Trump's night.
After trailing Sen. Ted Cruz of Texas in Iowa polls, the billionaire tycoon bounced back in recent weeks, with most observers expecting Trump to pull off a victory in the Hawkeye State's kickoff caucuses.
Instead, Trump lost out to the better-organized Cruz, who bested the real estate magnate by about four percentage points. No less important than the Cruz-Trump placement, though, is who finished just behind Trump: Sen. Marco Rubio of Florida, who nearly wrested second place from Trump, nabbing 23% support to Trump's 24%.
Rubio's performance far exceeded expectations. Even pre-caucus polls that showed his support climbing indicated he was headed for a finish in the high teens.
The first-term senator's robust showing boosts his effort to consolidate establishment Republican support behind his candidacy, bolstering his argument that he can unite different segments of the GOP electorate. His real test arrives next Tuesday in New Hampshire, where establishment rivals Jeb Bush, John Kasich and Chris Christie have focused their energies. Polls show Trump substantially ahead in New Hampshire, with Cruz, Rubio, Bush, Kasich and Christie all clustered around 10%.
But the Iowa results may dramatically reshape the state of play in New Hampshire. 
A new race: With Rubio emerging from the caucuses as a proven vote-getter, supporters of other establishment-oriented candidates may reconsider their options, particularly as center-right Republicans look to forestall a Trump or Cruz nomination.
Rubio isn't necessarily looking for a win in the Granite State. His campaign's much-ballyhooed — and much-mocked — "3-2-1" strategy called for a strong third-place finish in Iowa, followed by a silver medal in New Hampshire on Feb. 9 and the top prize in the Feb. 20 South Carolina primary. 
It's a risky strategy, but it may yet reap dividends. Rubio's South Carolina efforts received a much-needed shot of adrenaline Monday evening when Politico reported that popular Sen. Tim Scott (R-S.C.) will endorse Rubio on Tuesday.
Later-voting, more populous states — including his native Florida, in which the winner will claim all 81 delegates — may also power Rubio forward. And as the New York Times' Nate Cohn has observed, highly populated blue states play a surprisingly key role in selecting GOP nominees, given the concentration of delegates there. Such states typically break for center-right candidates.
A formidable foe: While Rubio's ascendance is unwelcome among his establishment rivals, it's also being eyed warily by Democrats, who regard the 44-year-old senator as their toughest general-election competition.
Though his reputation for moderation stems largely from his even keel and his support — later abandoned — for comprehensive immigration reform, Rubio's viability as a GOP standard-bearer is a matter of more than perceived centrism.
The son of Cuban immigrants and a skillful orator, Rubio would bring to bear a compelling persona — as was readily apparent during his speech to supporters in Iowa on Monday night.
"I know America is special because I was raised by people who knew what life was like outside America," he began, connecting his family's trajectory to the stakes of the coming election.
"This is no ordinary election," Rubio declared. He framed the choice facing voters in stark terms: "We can either be greater than we've ever been or we can be a great nation in decline."
Though he was careful not to explicitly repudiate Trump and Cruz, whose inflammatory rhetoric and hard-line views have sent jitters down establishment spines, Rubio also pitched himself as a candidate of inclusion who would broaden GOP's appeal. 
"When I'm our nominee we are going to grow the conservative movement," Rubio said. "We will unite our party, we will grow our party and we will defeat Hillary Clinton or Bernie Sanders or whoever [the Democrats] nominate."
To get there, Rubio must first dispatch the newly victorious Cruz and a spirited Trump. That's looking likelier than it did Monday morning.