Bernie Sanders in Iowa: "The People of Iowa Have Sent a Very Profound Message"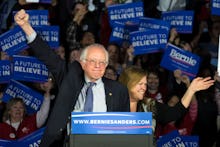 Nine months after launching his long-shot bid for the Democratic presidential nomination, Sen. Bernie Sanders (I-Vt.) found himself locked in a dead heat with frontrunner Hillary Clinton in Iowa's caucuses on Monday — a result that pointed to the resonance of Sanders' anti-establishment message and could portend a long slog ahead for the two candidates.
With 95% of precincts reporting, Clinton stood at 49.8% support, just ahead of Sanders at 49.6%. 
Speaking to supporters in Des Moines, Sanders all but claimed victory.
Recounting the early days of his insurgent campaign, Sanders said, "We had no political organization. we had no money, we had no name recognition and we were taking on the most powerful political organization in the United States of America."
"And tonight while the results are still not known, it looks like we are in a virtual tie."
Arguing that his strong showing underscored a hunger for action to combat wealth inequality, Sanders reveled in what he framed as a setback to the establishment — a bugaboo of both the democratic socialist senator and Republican candidates like Donald Trump and Ted Cruz.
"As I think about what happened tonight, I think the people of Iowa have sent a very profound message to the political establishment, to the economic establishment and, by the way, to the media establishment," Sanders said. "And that is, given the enormous crises facing our country, it is just too late for establishment politics and establishment economics."
"And the reason that we have done so well here in Iowa, the reason I believe we're going to do so well in New Hampshire and in the other states that follow, the reason is the American people are saying 'no' to a rigged economy," Sanders continued. "They no longer want to see an economy in which the average American works longer hours for low wages, while almost all new income and wealth is going to the top 1%."
Though an outright win in Iowa would have been a significant boon for the "political revolution" Sanders seeks to ignite, holding Clinton to a tie means he remains well-positioned to score a victory in the Feb. 9 primary in New Hampshire, where he leads Clinton by 18 percentage points in the RealClearPolitics polling average.
From there, Sanders must win over more diverse electorates in states like South Carolina, currently a Clinton stronghold. It's an uphill battle — but Sanders thinks he knows a thing or two about those. Almost one year to the day before he effectively tied Clinton in Iowa, the Des Moines Register poll there showed him at 5% support — 51 points behind Clinton.
Watch Sanders' speech here: