Is Ra Ra Riot on Tour? Here's What's on Deck for the Indie Rock Band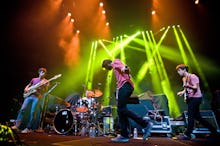 Timothy Hiatt/Getty Images
Syracuse, New York-bred indie rock group Ra Ra Riot has been steadily churning out music for a decade. With a long awaited LP on deck for release on Feb. 19, the group is gearing up to hit the road in support of its fourth studio album, Need Your Light. The exhaustive North American tour kicks off on Feb. 13 in Aspen, Colorado and will conclude with a show in Cleveland, Ohio, on June 11, according to the group's home page. 
Read more:
Ra Ra Riot's tour will take the group to Albany, New York, in early March, after which the band will head South then West, North and back East again, with shows scheduled in Washington, Atlanta, Houston, San Francisco, Toronto and many cities in between. Head here for a full list of tour dates and ticket purchase options. 
The current Ra Ra Riot members are Wes Miles, Mathieu Santos, Milo Bonacci, Rebecca Zeller and Kenny Bernard. After signing to Barsuk Records, the band released its first studio album, The Rhumb Line, in 2008, and The Orchard followed in 2010. The studio album to precede Need Your Light is 2013's Beta Love. According to the band's record label, the five-piece act had planned to pump the breaks for a spell after Beta Love, but reportedly found stepping away from music making harder than expected. 
"The inspiration came very quickly," Miles said of the Need Your Light writing and recording process, Barsuk Records reported.
According to the band's record label, Miles traveled to Los Angeles to start work on the album, and the band fell back into production work with Dennis Herring, a producer they've worked with before. The band did much of its writing in Milwaukee, Barsuk Records explained, and collaborated with a number of producers and musicians along the way, among them producer Ryan Hadlock and live-sound engineer and producer Andrew Maury. The band also reportedly worked with Rostam Batmanglij during the making of Need Your Light, the long-time Vampire Weekend musician who recently exited the rock group to focus on solo work.
On Jan. 4, the band released "Absolutely," a bright, synth-soaked anthem and a cut that's upbeat enough to soundtrack a new year and fresh beginnings. The group has also released a video for "Water." Both tracks will feature on Need Your Light.
In the lead-up to its tour, Ra Ra Riot is running a giveaway tied to its album release, according to a post from the band shared to its Instagram account. "These cute lil b-boards are sprouting up around L.A.," reads the post's caption. "If you spot one of these in the wild, post a pic for your chance to win tix to our @teragramla show + a secret prize."
Need Your Light track list:
1. "Water"  
2. "Absolutely"  
3. "Foreign Lovers"  
4. "I Need Your Light"  
5. "Bad Times"  
6. "Call Me Out" 
7. "Instant Breakup"  
8. "Every Time I'm Ready to Hug"  
9. "Bouncy Castle"  
10. "Suckers"