These Haunting Images Show the Yemeni War Through the Eyes of a 12-Year-Old Boy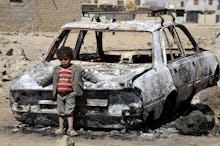 When it comes to internalizing the true cost of war, there are few ways more powerful than examining it through the eyes of a child. And that was precisely UNICEF's intent when the organization placed a camera in the hands of a Yemeni boy to capture his day-to-day life.
Abdullah, 12, took pictures of his hometown, Aden, a port city in the south of the country and an economic hub that has become a significant locality in the power struggle between opposing forces.
Since 2012, Yemen has become the battleground for a sectarian proxy war between Sunni Saudi Arabia, which backs the Sunni Yemeni government, and Shiite Iran, which supports the Shiite Houthi rebels. In 2015 the violence hit a critical point when a Saudi-led coalition launched airstrikes killing countless civilians, devastating large portions of the country and irreparably damaging it.
Abdullah and his friends offered captions with the photographs, which were provided to BuzzFeed News by UNICEF.
Abdullah, 12: "Behind me is the most iconic place in Aden: the Main Road, the most historical place in Aden. Destroyed and looking ugly. The building behind me is where I used to come with my friend. We used to play computer games on the first floor. I am sad. Very sad to see what happened in my city and the places I love the most."
Abulrahman, 11: "My little brother's bicycle has survived the war, but not our city. Everything is destroyed around us. I took my little brother around with his bicycle to play in the empty city. We are alone here, just me and him."
Abdulhakeem, 12: "I used to sell sweets in this street to keep me going to school after my father passed away. Today I went out, and what I saw is shocking. Ruins, ruins, ruins. Nothing but ruins. No school, no friends, no children come to me to buy sweets anymore. This city was very crowded and busy, but now it's so deserted. War is bad."
Omarr, 13: "Behind me are the remains of beautiful places I used to go to, people I used to greet every morning when I got back from school. Everything is gone. What remains are only memories. Please stop the war everywhere in Yemen."
Abdullah's series is just one of a number of similar campaigns exposing the world to the price Yemeni children are paying. Social media has picked up the stories of Yemeni child soldiers who have been recruited to fight, many as young as 13.
In October, a Facebook video of 6-year-old Fareed Shawky, who suffered fatal injuries from Houthi-directed missile attacks in the city of Taiz, went viral. He can be seen quietly pleading with the doctors, saying, "Don't bury me." His dying words turned into the hashtag #DontBuryMe as people used social media to condemn the feckless civil war.
"His call, 'Don't bury me,' represents Yemen's call to not bury us," Nadwa al-Dawsari, a Yemeni conflict specialist and senior nonresident fellow with the Project on Middle East Democracy, told Mic in October. "It represents what Yemen is facing now because of the war. It stirred a lot of anger."
h/t BuzzFeed News