Olivia Caridi's Thirst on 'The Bachelor' Is Real, Says Twitter — A Recap of Episode 5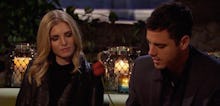 ABC/WhipClip
On Monday night's The Bachelor, Ben flew the remaining women from Sin City to Mexico, with several contestants upping their ante for one man's heart (we're looking at you, Olivia Caridi). Amanda was given the one-on-one date for the episode, in which she and Ben took a lovely hot air balloon ride over some of Mexico's historic sites, all the while making out and getting to know each other — including the part about Amanda having kids and an ex-husband, which Caridi can't seem to stand.
"Wow. I'm surprised Amanda's name was on that card just because she does have children," Caridi says in an interview during Monday night's episode, according to USA Today. "I don't think that's what Ben wants. I certainly don't think she is the right person for him — not really."
Read more:
Meanwhile, as Ben and Amanda enjoyed their private time flying high, Olivia continued the rhetoric at the house, saying, "If I were Ben I'd run the other way... because she has kids back home. I don't think she's coming home."
It's definitely never OK to attack someone for having children and a past life in the same way it isn't OK to attack someone for having abnormal feet. This is a reality show, however, and all things go in a house packed with women who are all competing for the love and attention of one man.
Twitter was quick to pick up on Olivia's thirst struggle going on behind the scenes:
Fans of The Bachelor are also expressing their continued frustrations with Caridi still remaining on the reality show week after week, despite her antics and behavior toward the other women:
A minuscule event much less important to some audiences watching The Bachelor took over the airwaves at one brief point during Monday night's episode, much to fans' dismay: