How to Preorder Wiz Khalifa's New Album 'Khalifa' Out Friday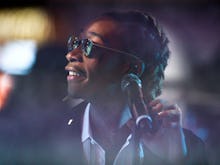 Andy Kropa/AP
Fresh off an epic Twitter feud with Kanye West, rapper Wiz Khalifa is expected to drop his latest album, Khalifa, Friday after releasing the album's first single, marijuana anthem "Bake Sale" featuring Travis Scott, on Jan. 21. The full album is available to preorder on iTunes prior to the official release date.
Fans can preorder the 13-track Khalifa on iTunes now for $9.99. Aside from Scott, the album includes collaborations with singer-producer Rico Love; Taylor Gang's Courtney Noelle; rappers Juicy J, Ty Dolla Sign, Chevy Woods; and Timbaland's younger brother, Sebastian.
Read more:
If "Bake Sale" is any indication for the rest of Khalifa, it'll be exactly what we'd expect from the Taylor Gang rapper, who openly flaunts his cannabis habits (like when he covered Adele's "Hello" with "Hella Os"). "I got flowers, wax, inhalers, edibles," Khalifa raps on the first verse. "All shit you never saw/ And it's all at my bake sale/ Roll another one, help me think well." Classic Wiz.
Khalifa and Yeezy got involved in an intense Twitter feud last week when Khalifa implied West copied his album title Waves from jailed rapper Max B. West naturally fired back in a now-deleted Twitter storm with disses such as, "No one I know has ever listened to one of your albums all the way through," and, "Don't ever ever ever come out the side of your mutherfucking neck bro or bruh or however you say it Mr. Waves." West's highly anticipated album is expected to drop Feb. 11, if he sticks to his word. 
Correction: Feb. 2, 2016