'Teen Mom OG' Season 2 Episode 5 Recap: Does Amber Portwood's Fiance Have Secret Children?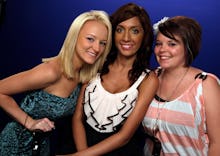 Richard Drew/AP
Teen Mom OG's fifth episode of its second season aired on Monday night, with Farrah Abraham, Maci Bookout, Amber Portwood and Catelynn Lowell navigating the still-murky waters of young motherhood, such as postpartum depression and custody battles. 
The biggest plot twist of the episode was Portwood's discovery that her new fiance Matt Baier allegedly has seven children from five different women, US Magazine reported. Portwood was already aware of two: an 19-year-old daughter and 13-year-old son, but the child support cases filed against Baier are a 19-year-old daughter, a 25-year-old son, a 22-year-old daughter, a 23-year-old daughter and a 5-year-old son in Massachusetts, the Ashley's Reality Roundup reported, according to the International Business Times.
Read more:
Gary Shirley, Portwood's ex and father of her daughter Leah, showed Portwood the supposed paperwork, to which she replied, "You should talk to me, or you should talk to him before you do something like this in front of the cameras, so everybody in the world will think something else. Now I'm gonna have to prove, in front of millions of people. This is ridiculous." 
To Portwood's further dismay and subsequent emotional breakdown, Baier refused to answer, and instead kicked out the MTV cameramen and producers from his car. 
But it seems like Portwood has made peace since the episode's filming. After the December airing of a teaser for Monday night's episode, Portwood took to Twitter to defend her relationship with Baier, saying, "His past is his past," and that she wouldn't care if he had 10 kids. 
But for already married Lowell and Tyler Baltierra, life hasn't been too swell, since Baltierra believed that Lowell suffers from postpartum depression, but she insisted she just needed a break from their new baby Nova, US Magazine reported. The two see a therapist who also suggested that Lowell could have postpartum, but she shrugs it off and Baltierra has a self-realization that he should help her out more. 
Abraham, who was called out by Nicki Minaj for treatment to her mother, decided to let both her parents take care of her daughter Sophia when she's in England —  but only after both Sophia and Abraham's therapist prompt her, according to US Magazine.
Exes Ryan Edwards and Bookout reunited for their son Bentley's seventh birthday party, the International Business Times reported. According to Bookout, the party went smoothly.