Gabrielle Union Is Hollywood's Most Underrated Star — Here's Why We Need More of Her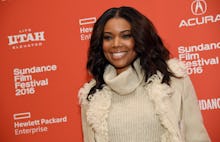 "Who's Stacey Dash?"
With just three words — an innocuous-enough answer to a question she was asked at the Sundance Film Festival — Gabrielle Union threw down a veritable shade gauntlet. The actress was clearly prepared to be asked about Dash's recent controversial comments, in which she called for an end to the BET Awards. Union's answer — that, like the Country Music Awards and the ALMA Awards, the BET Awards exist as a response to black performers not seeing themselves represented in mainstream awards — was practically flawless.
Yet she claimed not to be familiar with Dash, even asking, "Is she related to Damon Dash? Was she on Roc-A-Fella?" The only acknowledgment she gave Dash was a brief reference to hearing of "a crazy lady," but not knowing her name.
As seen below, it's 25 seconds of perfectly pitched, carefully brewed shade. It's the kind of clip that reminds you how much we missed the person delivering it.
Union is perhaps best known for her work classing up '90s and early 2000s movies. She had supporting roles in movies such as Love and Basketball and She's All That. But her most iconic role is that of Isis in Bring It On. Clad in her brilliant green East Compton Clovers uniform, Isis represented strength against oppression and appropriation. She led a cheerleading squad that had been wronged for years and stood up to the plagiarists who stole from them.
The character is so memorable in part because, in a weaker movie, she'd be the antagonist. She's the direct competition, and she's not exactly timid about taking Torrance (Kirsten Dunst) and the Rancho Carne Toros down. But thanks to the script, and to Union's performance, she practically becomes the deuteragonist. Seeing her and her squad succeed is arguably more important than seeing the Toros succeed, because it means more. To them, it's not just another title; it's a chance at being recognized for their work on a national stage — a struggle not unlike that which Union and other black actors now face with #OscarsSoWhite.
Today Union is most active on Being Mary Jane, her BET series that just closed its third season and is set to enter a fourth. In the show, Union plays Mary Jane Paul, a TV news anchor with a thorny love life. It's a well-reviewed series with strong ratings that covers similar themes of race and complex sexuality as Scandal, How to Get Away With Murder and more. Yet Being Mary Jane earns probably 5% (or less!) of the buzz those shows do.
Part of the problem is that Being Mary Jane is a cable series, though that certainly hasn't stopped shows like Better Call Saul and Faking It from earning their share of media attention. Yes, Being Mary Jane features a nearly all-black cast — but so does the giant hit Empire. Truly, Being Mary Jane is yet another case of Union's great talent and worth flying under the radar.
But Union is more than only a TV and film actress. She's also a star who uses her platform to promote causes important to her. She campaigned for President Barack Obama heavily in 2008 and 2012. She's spoken up on behalf of rape victims and shared her own story in 2012. Much of her work has focused on the pain of being a victim, and how she hated being deprived of that strength.
"It wasn't long before I became uncomfortable with feeling like a victim," she said in a reflection on Oprah Winfrey's website. "I started going to counseling because I wanted to move on. Therapy helped me ask myself, 'Who in my life is going to encourage survivorhood, not victimhood?'"
Union also spoke publicly about Trayvon Martin, the 17-year-old unarmed black boy shot dead by George Zimmerman in February 2012. As she tweeted at the time, her concern was for the future. "How do we explain this to children?" she asked.
She's also spoken out about causes like having natural hair in her films — an important note from both a style and cultural perspective. All of this speaks to what we might call today the Rowan Blanchard ideal of social justice-meets-celebrity. In 2016 to be a star without caring about social causes is nigh impossible. Look at the Charlotte Ramplings and Julie Delpys of the world who put their feet in their mouths over the #OscarsSoWhite issue. Twenty years ago, their comments wouldn't have earned so much as a second glance. Today they were blasted for them.
Being smart enough to give a sophisticated, progressive answer on a social justice question is no longer just an added bonus for a celebrity; it's expected. That's why Union's answer on Dash is so impressive: It shows a mastery of shade mixed with an informed viewpoint. Her impressive answer on why her character is speechless in Nate Parker's Sundance hit The Birth of a Nation also speaks to this.
"[The character] had lines in the script, but Nate and I discussed her not having any," the actress told Vulture. "As a sexual assault survivor myself, I didn't want her to have any. It's just more symbolic of the lack of control or power that black women had, and have, over our own bodies."
Union is the kind of celebrity Hollywood needs now more than ever. She's concerned with the world outside of herself, but remains as committed to her work as an actress as she is to activism. Her effortless dismissal of Dash serves as a reminder of what sharp, clever red carpet commentary she can provide. Union has been great for decades; we've sadly undervalued her. Now is the chance to remember why she's a star — and vault her to new heights.