This Kim Kardashian and Amber Rose Photo Proves Feuding Celebs May Be Trolling Us All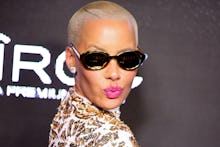 Rich Fury/AP
The recent Kanye West-Amber Rose face off — which was a shit show — just got stranger. On Tuesday, model/actress Rose, who is also West's ex-girlfriend, posted a selfie with West's wife, reality television royalty Kim Kardashian West. Rose captioned the post "Swingers," and Kardashian reposted the same photo with the caption, "Tea anyone?"
The well-lit selfies come after West brought Rose into his Twitter feud with fellow rapper — and Rose's ex-husband — Wiz Khalifa over West's decision to change his upcoming album's name to Waves. West said Khalifa got trapped by a stripper (Rose) and "I know you mad every time you look at your child that this girl got you for 18 years."
Read more:
The drama intensified when Rose struck back, saying "Awww @kanyewest are u mad I'm not around to play in ur asshole anymore? #FingersInTheBootyAssBitch." West later deleted his tweets and said he would "never speak on kids again." Maybe West waking up to #KanyeAnalPlaylist trending on Twitter had something to do with his mea culpa. 
Reacting to Rose's post, users on Twitter were understandably confused, and the oddness of the situation provoked a goldmine of GIFs and memes.
As of press time, no concrete answers could be found to explain the posts from Rose and Kardashian West. Perhaps this whole bizarre saga serves as a not-too-gentle reminder that all the internet's a stage and celebrities are free to take the public for an online ride anytime they choose. Are we trolling them or have we all been trolled?