Beyonce Channeled Michael Jackson With Her Epic Super Bowl Halftime Outfit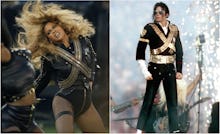 You might have come for the music (or, like, the football), but on Sunday night, for the Super Bowl 50 halftime show, you could have just stayed for the clothes.
Chris Martin and his Coldplay crew were covered in rainbows, while Bruno Mars was giving off vintage Run-DMC vibes. Beyonce brought out an army of dancers outfitted in Black Panthers-inspired outfits. And the Queen herself? She was honoring one person in particular...
Can you tell?
Do you remember? 
Michael Jackson.
With her black and gold military jacket, Bey paid very clear homage to Michael Jackson and his own Super Bowl halftime costume from way back in 1993. 
While Michael Jackson wasn't the musical focal point of the star-studded halftime show of Super Bowl 50 — which featured Coldplay and Bruno Mars and tunes like Uptown Funk, among others — the show was heavy on black cultural symbolism, from the dancers' including Black Panthers-themed costumes to the lyrics of Beyonce's new single, "Formation." 
As Mic's Jamilah King noted, "Beyoncé's performance was a moving tribute to black activism, both past and present, and it's the clearest sign yet that she is truly an artist of this political movement."
An homage to Michael Jackson fit right in, especially given how influential Jackson was to Beyonce. "Michael Jackson changed me, and helped me to become the artist I am," she wrote on her website five years after Jackson's death. Beyonce was the one, in fact, who surpassed his, Janet Jackson's, and Prince's records, as the highest-paid black artist of all time. 
Her custom DSquared2 jacket was subtle, but it was one more way to bring history into a symbol-packed halftime performance. We bet Jackson would have approved.