Here's How "Trump Fatigue" Played Into Donald Trump's Iowa 2016 Loss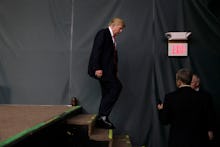 Poll after poll after poll in the run up to the first-in-the-nation Iowa caucuses predicted a Trump victory. But a funny thing happened on the way to the polls — those numbers just didn't hold up.  
When the promises from Trump's simplistic sloganeering came into contact with the harsh realities of turning out the vote, Iowans didn't quite commit in the numbers we'd been told to expect.
But maybe Iowans had just had enough of the Trump train?
Maybe they didn't appreciate being dissed in the last debate before the voting began, when Trump let his beef with Fox's Megyn Kelly get in the way of making his case to the people against his rivals.
Trump fatigue is something we have seen firsthand at Mic. Our readers and viewers were initially compelled to engage on stories we wrote about Trump over the summer (likely more from a sense of outrage than appeal; let's admit the entertainment value), but as time went on, young people simply seemed to stop caring.
ENGAGEMENT ON MIC STORIES WITH "TRUMP" IN THE HEADLINE
Mic measured the success of stories specifically with 'Trump' in the headline by looking at clickthrough rate — how many people saw the story and clicked — and engagement rate — how they are liking, sharing and commenting on those stories. As you can see above, after the initial media frenzy, the Mic audience, mostly under the age of 35, lost interest in the sideshow of his campaign. Aside from the occasional pop of interest at the most outrageous of his campaign moments (the Megyn Kelly feud in August, or his vitriol against Muslims in November) interest in his campaign dropped quickly.
And while legacy media companies experienced a boom in ratings and readership on the back of his self-made circus (we're talking to you, cable television), discerning young people haven't been engaged in his campaign for months.
We know our audience — millennials — better than any media outlet out there. We took this opportunity to also use our analytics platform to hone in on the top issues young people do care about.
And over the past year, roughly half of our 100 most-clicked stories were overtly discussing policy issue topics, whether that was immigration, gun control, income inequality, the Black Lives Matter movement or student debt. And the data confirms our hypothesis that millennials are a much more issues-driven portion of the electorate.
Mic has consistently taken an issues-based approach to our 2016 coverage, and while we were one of the only outlets to take Bernie Sanders' campaign seriously (as early as April of 2015 and consistently from then on) we continue to deliver coverage that matters to young people.