5 Restaurant Chains That Will Cater for the Super Bowl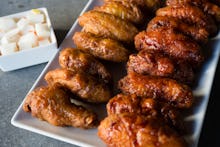 The Washington Post/Getty Images
Aside from the hype around the commercials and which team will win the championship ring, the Super Bowl is an excuse to gorge ourselves with the most gluttonous comfort foods: wings, nachos and anything else our insatiable hearts desire.
To those who refuse get off the couch except to answer the door for food delivery on Super Bowl Sunday, there are plenty of restaurants across the United States that embody the American dream by catering.
Read more:
Moe's Southwest Grill
Moe's catering menu includes full fajita, taco and salad (skip that) bars. The Tex-Mex chain also caters burritos; dips including queso, salsa and "handcrafted" guac; and cookies. 
P.F. Chang's
The beloved Chinese chain offers a "Big Game" catering menu that involves Asian-Super Bowl fusion fare like BBQ spare ribs; crab, pork and shrimp wontons; and sushi rolls. Its Super Bowl special allows customers to pick two menu items for $50 that it says feeds six to eight people. 
Cheesecake Factory
The Cheesecake Factory's catering menu is almost as monstrous as its regular menu, so those interested should check it out themselves. Some of the most appealing items for Super Bowl Sunday include buffalo wings, hot spinach and cheese dip and bang-bang chicken and shrimp. 
Kings
Gourmet grocery store Kings offers "chef-inspired catering" for parties and events. Its "Game Time" menu includes classics like chili, pigs in blankets, empanadas, crudités and cheese and a plethora of dips. Other catering menus include a seafood and sushi menu. 
Boston Market
Ye olde comfort food chain Boston Market does catering too. The menu includes its traditional menu items such as rotisserie chicken, meatloaf, ribs, mashed potatoes, mac and cheese, creamed spinach and several other options.