A Team of International Refugees Will Compete at the Olympics for the First Time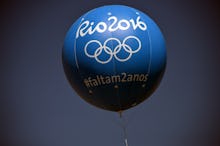 There is no simple solution to the refugee crisis, but the International Olympic Committee will at least recognize the issue by permitting a team of international refugees to compete in the 2016 Summer Olympics under the Olympic flag, the New York Times reports.
Although a team of refugees has never competed before, the current crisis demands an exception, according to IOC president Thomas Bach. Between five and 10 refugee athletes will compete — possibly including a female Syrian swimmer, a male Congolese judoka and a female Iranian taekwondo fighter, according to the same report. A refugee athlete will also carry the Olympic torch through an Athens refugee camp, Reuters reported in January.
Bach first proposed this team to the U.N. General Assembly in October, calling it a "symbol of hope for all the refugees in our world," the Associated Press reported. The Olympics are an ideal venue to impart this message, he added, because the games maintain that "all people are equal, regardless of their race, gender, social status, cultural background, faith or belief."
This symbol of hope can't come soon enough. More than 1 million refugees arrived in Europe in 2015, according to the Independent. Even after escaping conflict in their home countries, refugees face plenty of hardships in new countries, like sexual assault in camps, the damaging psychological aftermath of their experiences and plenty of anti-refugee sentiment and violence.
As Bach summarized simply to Reuters on Thursday, "we want to draw the attention of the world to the problems of the refugees."
And the Olympic games — which was watched by 4 billion people in 2012, making it the most-viewed television event ever — has great potential to do just that.