Yet Another Black Man Has Been Killed by Police While Holding a Toy Gun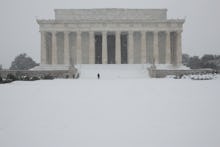 For a country so enamored with the Second Amendment, the United States certainly kills a lot of people carrying fake guns. An unidentified man was shot Monday morning by police in Washington, D.C., after he slipped and let what appeared to be a semi-automatic pistol fall from his pocket while running away from officers, local television station WRC reported. The victim died at the hospital later that day. 
Turns out the "weapon" was, in fact, a BB gun. D.C. Police Chief Cathy L. Lanier told reporters the victim was black, while the officer who shot him in the neck was white. She also highlighted that the neighborhood where the shooting occurred — Clay Terrace, in northeast D.C. — was being very heavily policed at the time. The Washington Post reports the victim was the fourth person killed by police in Clay Terrace since March. 
"We have a lot of violent crime over there," she said. "This is why we have constant patrol presence in the community because we've had homicides in ... recent history just in that same block."
The victim in Monday's shooting was approached by the officer because he was "acting suspiciously," WRC reported. He had reached for the toy gun after the officer told him not to. While neither he nor the officer have been identified publicly, the killing prompts a clear comparison to other police-involved shootings where black victims have died while carrying fake weapons. 
In August 2014, John Crawford III picked up a toy rifle inside a Walmart store in Beavercreek, Ohio, and was killed by police a few minutes later. That November, in what became one of the more galvanizing incidents fueling the Movement for Black Lives protests, a 12-year-old boy named Tamir Rice was playing with a toy handgun outside a Cleveland recreation center when he was shot and killed by Officer Timothy Loehmann. 
Grand juries declined to indict anyone for either shooting.
As protests continue across the country in response to various forms of anti-black state violence, heavy policing in black neighborhoods has drawn special criticism as a conduit for disproportionately targeting residents for petty crimes. 
In places like New York City, so-called "broken windows" policies have taken this practice to its logical extreme, claiming that by aggressively pursuing minor crimes, officers can prevent more serious ones from occurring. Meanwhile, satellite practices like the now-defunct "stop and frisk" — which allowed police to stop and search anyone they wanted without demonstrating probable cause — have been shown to disproportionately target black people and Latinos.
According to the Counted, a database by the Guardian of officer-involved killings from across the United States, America's police killed 1,139 people in 2015 — with black people more than twice as likely to be unarmed when killed as white people.
h/t WRC