'Preachers of Atlanta': Preview, Start Time, Channel and More on New Oxygen Spinoff Series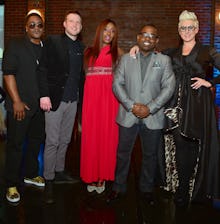 Prince Williams/Getty Images
Oxygen's new reality series Preachers of Atlanta is almost here, and fans of the network's other Preachers shows are getting ready for a whole new cast of pastors. The new show is a spinoff of the network's popular series Preachers of L.A., and the Atlanta offshoot, Preachers of Atlanta, premieres Wednesday, Feb. 3 at 10 p.m. Eastern on Oxygen.
Read more:
The reality series will follow five Atlanta-based pastors: Pastor Canton Jones, Pastor Judah Swilley, Pastor Le'Andria Johnson, Pastor Corey Hambrick and Pastor Kimberley Jones-Pothier. 
According to the show's official website, the series will explore "many of the most hot-button and polarizing issues in America today" and give viewers "a fresh perspective on men and women of the cloth determined to meet people in their current circumstances in order to inspire a resurgence of faith."
If the teasers are any indication, the first season of Preachers of Atlanta promises rapping pastors, plenty of passionate sermons and some tearful prayer circles.