Super Bowl 50 Livestream: How to Watch Game and Key and Peele Squarespace Special Online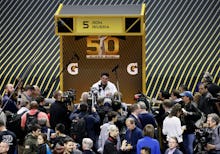 Charlie Riedel/AP
Football fans can catch the Carolina Panthers and the Denver Broncos in Super Bowl 50 on Sunday at Levi's Stadium in Santa Clara, California. This year, there will be several ways viewers can catch all the action live. 
The biggest game in football will be available for livestreaming in a few ways: Fans can go online and watch through a livestream on CBSSports.com or catch the game on home entertainment devices such as Xbox One, Apple TV, Roku or Chromecast. However, only eligible Verizon Wireless customers will be able to livestream on their mobile devices by using the NFL Mobile App.
There's no catch; football fanatics only have to log in and watch the Super Bowl for free.
The game will air on CBS at 6:30 p.m. Eastern, with sportscaster Tracy Wolfson reporting on the sideline, sportscaster Jim Nantz delivering play-by-play and former New York Giants quarterback Phil Simms providing in-depth football analysis. CBS Sports' Super Bowl 50 programming will air as early as 11 a.m. Eastern with the film Super Bowl 50: Before They Were Pros.
Read more:
The website-hosting service Squarespace will be providing a unique experience for the Super Bowl on Sunday. Comedians Key and Peele will be hosting a livestream, as sportscasters Lee and Morris, who will deliver commentary the entire game. However, the two comedians don't have the legal rights to actually talk about the Super Bowl.
"They've pooled their resources together and set up a website on Squarespace for the live broadcast, with one massive oversight — they don't have the rights to talk about the actual game. They decide[d] to move forward with the plan anyway," a press release said, according to Adweek.
Key and Peele won't be the only source of entertainment during Super Bowl 50: The rock band Coldplay will headline the Super Bowl 50 halftime show, with a guest appearance by Beyoncé. 
The Broncos defeated the New England Patriots 20-18 in the American Football Conference championship game Jan. 24 to advance to Super Bowl 50. The Panthers beat the Arizona Cardinals 49-15 in the National Football Conference championship game on the same night.