What Is the "Super Bowl Shuffle"? Lyrics and How the Old School Super Bowl Rap Originated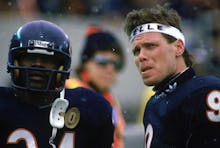 Jonathan Daniel/Getty Images
In 1985 the NFL's Chicago Bears players doubled as rappers and released the song "Super Bowl Shuffle" under the group name Chicago Bears Shufflin' Crew. The song wound up being nominated for a Grammy, raised hundreds of thousands of dollars for Chicago's poor community and, 30 years later, is essentially the unofficial Super Bowl theme song.
The Bears may have jumped the gun by releasing a Super Bowl jam mid-season — but their win at Super Bowl XX that year saved them from embarrassment. The song included former Bears players William Perry, Walter Payton, Willie Gault, Mike Singletary, Jim McMahon, Otis Wilson, Steve Fuller, Mike Richardson, Richard Dent and Gary Fencik.
Gault spearheaded the project to raise money for Chicago families in need, Grantland reported. 
Read more:
The "Super Bowl Shuffle" involved several Chicago Bears teammates going verse-for-verse about their style and fame on and off the field over a now-old-school-sounding rap beat. "I may be large, but I'm no dumb cookie/ You've seen me hit, you've seen me run/ When I get the pass, we'll have more fun," 335-pound former defensive lineman William "Refrigerator" Perry rapped in his verse. The song's full lyrics are available on Genius.
The record sales raised $300,000 for Chicago's poor, according to ESPN, the donation of which the team touted on the record cover. It even earned the No. 41 spot on Billboard's Top 100 chart and was nominated for a Grammy that year for best rhythm and blues performance by a duo or group.
Feb. 2, 2016, 2:07 p.m. Eastern: This story has been updated.
Correction: Feb. 2, 2016