Khloé Kardashian Just Got Uncomfortably Real About Sex and Body Image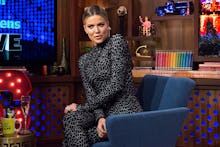 On a Jan. 31 episode of Keeping Up With the Kardashians, Khloé Kardashian made a semi-controversial joke about her teenage sex life. It began when Kim playfully called her "Khloé Blowie."
"That wasn't my name in high school," Kardashian said in response. "That was another Khloé's name in high school. Rob told my dad that my nickname was 'Khloé Blowie,' and I was like, 'That was not me. I'm the fat one. Who's gonna want blowjobs from the fat girl?'"
And then: "Being fat really saved me from being a whore in life, though, you guys."
The slut-shaming implications of the term "whore" aside, that Kardashian would make such a tongue-in-cheek remark about her past physique isn't exactly surprising.
She's widely regarded as the DGAF-iest of all the Kardashian sisters, and she's always been open about her feelings of insecurity around being viewed as the "fat and funny sister," as she told People in 2015. Following her much-publicized weight loss, Kardashian has written a book and created a TV show that encourages people to overcome their personal setbacks by getting into kick-ass physical shape, because "looking great is always the best revenge." 
While many have framed Kardashian's weight loss narrative as the ultimate form of redemption, particularly in light of her very public split from Lamar Odom, not everyone has been on board. Some have argued that Kardashian's "revenge body" rhetoric is not exactly the most body-positive message to send. And in October, Amy Schumer joked on Saturday Night Live that by losing weight, Kardashian had conformed to society's thin beauty standards, thus robbing young girls of a body-positive role model. 
In response, Kardashian clapped back by defending her "healthy journey" on Twitter. But in a society that tends to view overweight people as unlovable and/or unfuckable, it's hard not to see a grain of truth in Kardashian's casual, offhand joke about how being fat "saved" her from sleeping around. 
Recently, there's been something of a push for overweight people to own their sexuality and be confident in the fact that they deserve love (and orgasms) just as much as anyone else. Some women are heroes of championing body positivity in this way, such as super confident plus-size models like Tess Holliday or BBW porn star Kelly Shibari.
Still, Kardashian's latest li'l aside on KUWTK indicates that the connection between sexual confidence and body image is one that is fraught with all too much baggage. Her comments about her own experiences with weight and sex are reflective of a larger cultural problem in which fat people are essentially viewed as sexually invisible. While it's great that she's able to make light of it now, she may be perpetuating that very cultural problem by being so complicit in it.
Rest assured, Khloé: You were far from unfuckable before you lost all that weight. And you probably could've had all the sex you wanted to. 
h/t Mashable