Hillary Clinton Made History by Becoming the First Woman to Win the Iowa Caucus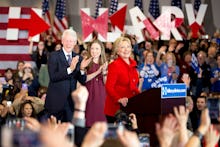 The Iowa Democratic presidential caucus Monday night was the definition of a nail-biter between presidential hopefuls Sen. Bernie Sanders and Hillary Clinton. But though she won by less than a percentage point, Clinton emerged victorious and made history by doing so, becoming the first woman to win the Iowa caucus. 
"I am honored to stand in the long line of American reformers who make up our minds that the status quo is not good enough," Clinton said in a speech following the caucus Monday night, saying that the victory allowed her to breathe "a big sigh of relief." 
Much attention has been paid to the meaning of these results for Sanders. The near tie of Clinton's 699.57 state delegate equivalents to Sanders' final 697.77 was not only the closest in Iowa Democratic caucus history, USA Today reported, but sharply outlined how far Sanders has come in the race. In February 2015, Sanders had only 7% support in Iowa, Mic's Zeeshan Aleem reported Monday, and some have noted that Clinton's campaign might feel threatened by his gain.
Clinton's win, however narrow, is a historic occasion worthy of celebration as she is the first woman in history to win the Iowa caucus.
But Clinton's win, however narrow, is also a historic occasion worthy of celebration, as she is the first woman in history to win the Iowa caucus. Women still only compose about 20% of the U.S. House and Senate and their representation at the state level isn't much better, according to the Rutgers Center for American Women and Politics. At the current rate of progress, it will take nearly 500 years for women to reach parity in governmental representation, according to the Nation.
Clinton's move toward one of the most prestigious political positions in the nation does much to bolster the efforts of female politicians in the U.S. But the candidate said she hopes to ultimately do more than just break the gendered glass ceiling of politics. 
"I want you to know, I will keep doing what I have done my entire life," she said after her victory Monday night. "I will keep standing up for you. I will keep fighting for you. I will always work to achieve the America that I believe in, where the promise of that dream that we hold out to our children and our grandchildren never fades, but inspires generations to come."