Why the Fine Brothers Are the Biggest Villains on the Internet Right Now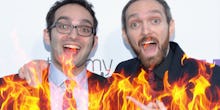 The hugely popular YouTube video makers Benny and Rafi Fine — better known as the Fine Brothers — are losing followers quickly. 
After building a small empire creating irresistible "react" videos like "Kids React to Gay Marriage" and "Elders React to Dubstep," the Fines tried to license their winning formula and trademark several show titles with the word "react" in them. Subscribers and creators alike were upset, and many YouTubers took to Reddit to allege that their videos had been removed by the Fine Brothers, according to the Daily Dot. Between Jan. 30 and Feb. 3, roughly 340,000 people unsubscribed from the Fines' YouTube channel. 
The Fine Brothers have since officially apologized and agreed to pull their trademark applications. It's unseen whether the move will stem viewer anger or help the Fines regain those lost subscribers. 
So how did we get here?
It started with a simple formula: reaction videos
In 2010, the Fines launched a program with a simple template: They showed kids a video and filmed their reactions. They also interviewed their subjects on what they'd just watched. 
It was a hit, and the Fine Brothers rose to prominence, accruing millions of views with series like Elders React and Teens React. The Fines' top video, "YouTubers React to Try to Watch This Without Laughing or Grinning," has racked up nearly 44 million views.
They protected their assets
In a blog post, Internet entrepreneur Hank Green noted that in recent years, the Fine Brothers have sought to protect what they see as their intellectual property. Green acknowledged that the Fine Brothers have made public-facing comments accusing parties (including The Ellen DeGeneres Show) of using the reaction video concept without any mention of their show. 
Last week, the Fines announced a new program called World React, which would allow YouTubers to license the Kids React "format." The brothers also revealed that they had filed trademark applications for the word "react" as it relates to "entertainment services, namely, providing an ongoing series of programs and webisodes via the internet in the field of observing and interviewing various groups of people," according to trademark lawyer Ryan P. Morrison. 
The Fines' company had also applied for trademarks on "Celebrities React," "Adults React," "Parents React," "Kids vs. Food," "Lyric Breakdown," "People vs. Technology," "Try Not to Smile or Laugh" and "Do They Know It?" It had already obtained trademarks for "Teens React" and "Parents React," according to Morrison. 
After the revelation, Morrison mounted a pro-bono opposition to the various trademark applications. 
Morrison says YouTubers were fast to join the call against the Fine Brothers. "This is far from my first pro-bono case stemming from people using trademarks improperly, but it snowballed faster than any I've been involved with before," he told Mic. In all, he says that in a span of four days he amassed 200 "mid- to large-level YouTubers" to file for opposition to the trademark. 
Morrison told Mic that since the brothers have issued an apology, and supplied him with proof that they've rescinded all their trademarks, his work is done. 
This is where the Fine Brothers messed up
The Fines applied for a trademark and not copyright. These are different classifications with different consequences. 
Trademarks are actually designed to protect the public, not creators. "So when you buy a can of Pepsi, you know you're gonna get that brown syrupy liquid — that's what it's designed to protect," media and entertainment attorney Rose Meade Hart tells Mic. "It's designed to protect me as the consumer, so I know what I'm getting because of the label on this jar." 
For instance, Kleenex, the tissue maker, and Xerox, the copy machine manufacturer, have trademarked their brands so that their product or services can't be confused with those of with other tissue and copier manufacturers. But again, these trademarks were granted with the public in mind — not the brands — and they apply specifically to goods and services. Plus, trademarks are incredibly hard to get and keep, says Hart. 
Additionally, trademarks are generally granted for something specific, while the brothers were trying to trademark a very broad term.
"While the Fine Brothers certainly have been trailblazers and most likely established the initial popularity of react videos, I do not believe they created a protectable show format. Even if they did, trademark is not the appropriate vehicle to assert and protect those rights. I think it would be similar to trying to trademark 'Fail' as the title of a video series," Hart told Mic.
The legalese you need to know
A copyright owner has the right to an initial work as well as later works created under that copyright. "The owner of a copyright has the exclusive right to reproduce, distribute, perform, display, license, and to prepare derivative works based on the copyrighted work," according to Cornell University's overview of copyright law. A copyright is limited by fair use, which allows people to use material under copyright if the person is using it as a teaching tool or in a criticism. Like trademark owners, copyright owners can have content taken down if it rips off intellectual property, but it's not quite as sweeping in scope as a trademark. 
Hart said the Fines may have been trying to trademark a show format in a sort of backdoor way. But again, to protect a format is a matter of copyright, not trademark, and it's very hard to pull off. Even still, if the Fines were able to obtain the trademark for "react," that doesn't mean someone couldn't launch a lawsuit in objection.
From YouTube creators to corporate media
What upset viewers and fellow YouTubers most was the threat the Fines' trademarks posed to the creation of other content in this genre.
The big problem for creators making reaction videos is that trademarking the word "react" could prevent them from being able to use that language to describe their videos. "You could get shutdown for trademark infringement because you're using someone's brand to market your content. If you need to communicate to people what you're doing and someone else thinks that it's a brand, then it makes it difficult for you to get your stuff out there," Doug N. Masters, managing partner at law firm Loeb & Loeb, told Mic. 
In their apology, the Fine Brothers said they didn't have any intention to use their trademarks to prevent content creation. "The reality that trademarks like these could be used to theoretically give companies (including ours) the power to police and control online video is a valid concern, and though we can assert our intentions are pure, there's no way to prove them," they wrote. 
But that argument might not have held up. In order to keep the trademarks, they would have had to protect them, Hart told Mic. "Once you get that trademark, you have to defend it or you'll lose it, just like Kleenex and Xerox. So you can't let people just use your stuff and look the other way," Hart said. 
While the Fine Brothers may have every intention of keeping their trademarks relatively open, that doesn't jibe with their responsibility as corporation owners. This issue is something that may be unique to YouTube creators. Because the platform has a high level of community engagement and the ability to accurately track viewers, audience members have more power over how YouTube creators conduct their businesses. 
For the Fines, the community-based nature of YouTube as a media platform has helped to both launch their media careers and keep their company behaving ethically.
"Their fanbase relates directly to their ad revenue, so it hits them in the pocket when they start losing fans," Hart told Mic. While ultimately, the loss of subscribers may not affect the number of views that the Fine Brothers garner for each of their videos, the backlash was enough to elicit an apology and trademark retraction. 
What's interesting about this outcome compared with television, for example, is that it could indicate that audience members may have more power than they've traditionally had in the past with media entities. Hart thinks this is in part because television ratings aren't as exact a science. Many have bemoaned Nielsen's ratings, for example. 
But YouTube views are highly public and trackable, so that when consumers make a decision to shun a creator, it's visible to other viewers and advertisers — something the Fines could have seen coming.