Here Are the 4 Best Vapes for Under $50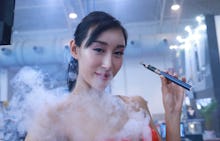 ChinaFotoPress/Getty Images
So, you're in the market to buy a new vaporizer, but you also happen to be balling on a budget. Fear not, there is an entire selection of vapes, from lower-quality disposable pens to the higher-rated models, all for less than $50. Welcome to the internet.
The rechargeable gadgets have been a hot commodity for some time now, as the term "vapes" has been climbing in Google search trends ever since 2009, when "electronic cigarettes" were still considered highly controversial and the habit of vaporizing nicotine — or perhaps, something a little greener — was just entering the public conscious. 
Now, companies are beginning to offer high-tech features on affordable vapes as competition increases throughout the market, with more vape designers wanting to get in on the profits. Check out some of the best vaporizers that won't break the bank below.
Atmos Bullet to Go Plus
The Atmos Bullet to Go Plus is a standard portable vaporizer that works especially well with waxier oils, as well as dry herbs, otherwise known as flowers. The pen is charged through a cordless USB charger and comes with the cartridge, a lithium battery, the USB charger and a user manual for $30 to $40 online. The portable vaporizer can be purchased through SmokeCartel.com.
White Rhino Sleek Vaporizer
If you're looking for style as much as efficiency, the White Rhino Sleek vape might be your best bet. The stylishly small vaporizer comes in a variety of colors and is compatible with both wax and oil. It's a great vape for someone just starting to poke their head into the vaporizing market, and runs from $35 to 50 online.
Kanger Emow Kit
If you're looking for more of a high-tech yet affordable vaporizer, look no further than the Kanger starter kit. This advanced vape is still slim and portable, offering the same great qualities as the rest of the pack, though features a longer-lasting battery, replaceable coils and a design which allows for even greater flavor in each puff. The Kanger EMOW kit costs $45 on BeyondVape.com. Fun fact — THC oil can be added to the Kanger vape in place of nicotine...if you're into that sort of thing.
Buck Naked Plus Deluxe
Though Buck Naked might look like it's the most complex vape in the group, it's actually quite simple: A five-click lock system allows users to easily replace cartridges, and the extension in the pen's size allows for greater vapor production. The battery has a long shelf-life, and though it costs over $50, discounts can always be found. It might also be worth noting the Buck Naked Plus Deluxe works with THC oil as well, which might come in handy for those looking to vaporize something other than the standard oils.