Lady Gaga Will Be Performing a David Bowie Tribute at the 2016 Grammys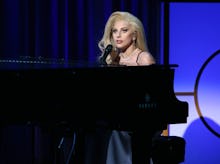 John Salangsang/AP
David Bowie's death from cancer in January rocked the music world — and left many wondering how the singer would be honored at the upcoming Grammy Awards. On Tuesday the Recording Academy announced that Lady Gaga would perform a tribute to Bowie at the awards show.
"We had already booked Lady Gaga on this year's show, but when David passed — almost in a single moment — we knew we had to change direction," Ken Ehrlich, the executive producer of the Grammy Awards, said in a statement. "We immediately spoke and agreed that she should be the one to honor David. She's perfect for it."
Read more:
In the days and weeks following Bowie's death, numerous celebrities offered tributes and messages honoring his life and career, including Madonna, Kanye West, Iggy Pop and Paul McCartney.
Lady Gaga has spoken about her admiration and respect for Bowie in the past. In a podcast interview with the Hollywood Reporter shortly before Bowie's death, she said, "When I fell in love with David Bowie, when I was living on the Lower East Side, I always felt that his glamor was something he was using to express a message to people that was very healing for their souls. ... He is a true, true artist and I don't know if I ever went, 'Oh, I'm going to be that way like this,' or if I arrived upon it slowly, realizing it was my calling and that's what drew me to him."
So far the Academy hasn't yet announced what, exactly, Lady Gaga's Bowie tribute will entail. Lady Gaga is a six-time Grammy Award winner and a 2016 nominee. The 58th Annual Grammy Awards will take place on Monday, Feb. 15 at 8 p.m. Eastern and air on CBS.