How to Gain Followers on Instagram Without an Abundance of Hashtags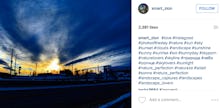 Instagram
The American dream is still alive in the form of gaining followers on Instagram. Unfortunately, many users run that dream into the ground by inundating their followers with every possibly hashtag related to their generic #skyporn picture as a method of gaining traction on the photo-sharing app. 
There are several ways to gain followers on Instagram without the self-sabotage that is #sky #skyporn #skipic #skypornpics #sunrise #sun #cloud #clouds #morning #instamood (you get the gist). Subtle yet effective methods exist that won't look as desperate or damage the user experience. 
Read more:
Here are 5 ways to increase your Instagram following without the hashtags:
1. Go on a liking spree
Like tons of other people's Instagrams that are in your target audience. Online marketer Neil Patel did this and got an average of 6.1 follows for every 100 likes. 
2. Filter smart
People prefer popular filters including Earlybird, X-Pro II, Hefe, Rise and Valencia, according to Patel. For those who choose to edit Instagrams with external apps, use cooler color shades. "Social media scientist" Dan Zarrella told the Huffington Post Instagram users tend to "like" them more. "I analyzed the dominant colors in the images and found that cooler blues and greens were correlated with more likes than warmer reds, yellows, oranges and pinks," he said.
3. Instagram before you leave work or mid-sleep
Timing is everything with Instagram. An analysis of 61,000 Instagram posts by scheduled Instagram posting service Latergramme showed that posts at 5 p.m. and 2 a.m. got the most recognition. Set your Instagram alarm and don't snooze because 6 p.m. is one of the worst times to post, according to the study. 
4. It takes a desperate Instagram user to know one
Find and follow users through the hashtag #followforfollow and #likeforlike — they often keep their promise, according to Forbes contributor and online marketing specialist Jayson DeMers.
5. Get post happy
Post often. Contrary to the theory that people who post too much on Instagram are obnoxious, analytics from Union Metrics showed brands that posted an average of 1.5 photos per day weren't negatively effected in terms of likes or followers. "Building a big following on Instagram is a balancing act," Forbes tech reporter Jeff Bercovici wrote. "You need to post often enough to keep your followers' attention but not so often that they feel spammed and block you."