Georgia Marijuana Legalization Amendment 2016: Updates on State's Efforts to Legalize Pot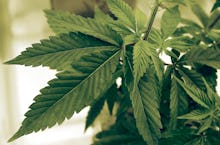 Jim Mone/AP
A proposed constitutional amendment in Georgia called the Georgia Marijuana Legalization Amendment aims to legalize the recreational use of cannabis for residents ages 21 and older, and policy makers may be moving quickly. According to Ballotpedia, the Georgia Legislature may include the amendment on Nov. 8's ballot. If passed, the law would put state regulators and the General Assembly in charge of what could be a budding new industry for the Peach State. So far only Washington, D.C., and four states — Alaska, Colorado, Oregon and Washington — have legalized the recreational use of cannabis.
Read more:
According to the proposed bill's text, any revenue from the "green economy" would, in part, feed back into the state's regulatory efforts on the cannabis industry.
"Proceeds derived from fees and taxation of the production and sale of marijuana shall be used to pay for the operating expenses of the state's regulation and administration of such production and sale of marijuana," reads the amendment, which state Sen. Curt Thompson, a Democrat, introduced.
"Net proceeds after payment of such operating expenses shall be separately accounted for and shall be specifically identified by the Governor in the annual budget presented to the General Assembly as a separate budget category entitled 'Marijuana Proceeds,' and the Governor shall make specific recommendations as to the educational programs and purposes and capital outlay projects for transportation infrastructure purposes to which such net proceeds shall be equally appropriated."
Despite any perceived voting momentum on legal cannabis in Georgia, a November 2015 poll from Atlanta NBC affiliate station 11Alive found that the question of legal recreational marijuana is a divisive one for Georgia voters. Asked "Should the use of marijuana for recreational use by adults in Georgia remain against the law," 46% of a total 1,787 registered voters polled said yes, while 45% said they support the legalization of recreational cannabis. 
Others studying the wider trend of marijuana decriminalization in the U.S. argue widespread legalization is only a matter of time. According to an August report from 24/7 Wall Street, Massachusetts, Nevada, California, New York, Vermont, Minnesota, Connecticut, Maryland, Rhode Island, Maine and Delaware may be the next states to make cannabis legal.
As Mic previously reported, there's reason to believe recreational cannabis also has potential to be legalized in Maine, Arizona, Michigan and Ohio.
So far, 23 states have legalized cannabis use in some form. For a full list of which states allow marijuana, both recreationally and for medicinal purposes, head here.
Yet it could be that, for Georgia, the benefits of legalizing marijuana would go beyond bolstering the state's revenue. According to a 2013 study from the American Civil Liberties Union, a whopping $42,071,288 was spent enforcing cannabis possession laws in 2010, and African-American residents were 3.73 times as likely as white residents in Georgia to be arrested for possession, despite relatively equal use.