This Designer Just Showed Everyone How to Do Cultural Appreciation Beautifully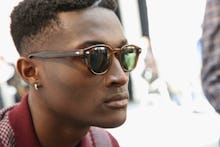 Though Monday was the start of Black History Month, designer David Hart's decision to use a cast of all black male models wasn't meant to be a gimmick. Sure, he said, it was "a subtle nod to everything going on with the Oscars." But the fashion designer's decision was far more thoughtful than that.
"For me it was really about the authenticity of the Jazz era, and I really wanted to do something that was very, very authentic to that time period," the fashion designer said on Monday night at the official opening party for New York Fashion Week: Men's.
The result? With his must-see show, Hart, who was tapped as a finalist in the prestigious CFDA/Vogue Fashion Fund, deftly sidestepped the pitfalls of appropriation in favor of "appreciation" territory. In fact, by most accounts, his was the first menswear brand to present a collection exclusively on models of color at New York Fashion Week.
Keeping it authentic: For his Fall 2016 collection, Hart channeled the jazz musicians of the 1950s and '60s. His father was a jazz musician, so the era evoked a sense of nostalgia in him, he said. According to the Observer, the Maryland native was particularly inspired by the likes of Art Blakey, Sonny Stitt and Miles Davis, whose styles all guided the new collection. They are also all black men — which Hart is not.
"Before I even styled it and I was still looking at the sketches, I said, 'Well, David, it would be really sort of foolish of us to not cast this authentically,'" stylist Jahn Hall told Mic Monday night. Hall runs creative agency Consortium NYC and has been working with Hart for seven seasons, casting, styling and producing his presentations. 
"'If this [show] is about 1950s jazz and the renaissance of jazz, I think it's important we do it really authentically,'" Hall told Hart.
So they used an entirely black cast of models, who were arranged amid tables, chairs and small cups to evoke an outdoor cafe vibe. They wore sunglasses, windowpane trousers and leather jackets, as well as some more formal pieces (think black tie) and more casual looks like polos, cardigans and even jogger pants. On the soundtrack played the sounds of '50s-era jazz, as well as hip-hop influenced by it.
"I was imagining these kids whose fathers and grandfathers maybe listened to jazz, who are now raising kids in the '60s and '70s that were obviously influenced by jazz in slightly new ways," Hall said. "I remember in the '90s how much jazz influenced hip-hop and everything in general."
"It wouldn't make sense to bring on a bunch of  — no offense to them — lily-white kids who weren't exposed to jazz in a real way," he added.
Avoiding cultural appropriation: Logical as that may sound, that hasn't been how the fashion industry typically works. Concerns of cultural appropriation are common when someone — designers, models, artists, whoever — takes someone else's culture into their own hands and makes of it what they will, authenticity thrown to the wind.
It's happened time and again, often on runways. Valentino has been called out for the last two seasons for what seemed like culturally appropriative tactics — a fashion show with white models in cornrows, followed by a show with white models in bantu knots. Then Vogue fell into hot water for calling the bantu knots "Bjork buns."
That kind of appropriation, purposeful or not, is likelier to happen when the models aren't a diverse bunch. In February of last year, the New York Times pointed out that only about 2.7% of designers at women's New York Fashion Week were African-American. 
"There's a lack of diversity within the fashion industry in general, not only in modeling, but in positions of prestige in the industry in general," Hall said, having worked in fashion for 30 years. "[I'm talking] design directors, creative directors and everything else." By some tallies, of the 61 menswear shows set to happen before Friday, only three feature black designers.
Thankfully, more casting directors like Hall have made diversity a priority. Kevin Amato landed a New York Times cover in 2015 with his work for fashion brand Hood By Air. The director is known for casting diversity not only in race but also in gender and typically resorts to street casting. As for Hall, he aims to typically cast at least 30% models of color in any project he works on, which include clients ranging from Joseph Abboud to Samsonite.
As for other designers who say there just just aren't enough models of color to choose for their shows, Hart disagrees. "You know," he said regarding David Hart's show, "the only challenge was, there were so many good models to choose from!"