Watch Drake Do "Hotline Bling" Dance in T-Mobile Super Bowl Commercial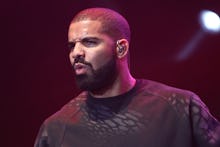 Leon Bennett/Getty Images
"Hotline Bling" singer Drake gave fans a precious few moments of face time on Tuesday, after T-Mobile released a Super Bowl 50 commercial featuring the Canadian recording artist. In the ad, we see Drake begin his signature dance routine in a familiar illuminated cube, sporting the same chunky turtleneck and Timberlands he wore in the chart-topping "Hotline Bling" music video. Yet in the T-Mobile ad, wireless carrier executives doubling as directors interrupt the heavyweight artist to say, "Perfect, here are the changes."
"I love changes," an appeasing, almost sycophantic Drake answers. "When you say 'call me on my cell phone,' just add, 'device eligible for upgrade after 24 months,'" adds another executive. And Drake's all smiles.
Read more:
The message T-Mobile is trying to send, of course, is that it's unlike other mobile carriers. According to a caption published alongside the Super Bowl ad, which was shared on YouTube, T-Mobile fancies itself an "Un-carrier." 
"Carriers ruin everything, even Drake's 'Hotline Bling,'" reads the caption. "T-Mobile is the Un-carrier."
No word on how much Drake earned by agreeing to appear in T-Mobile's Super Bowl 50 ad, though it is likely the spot alone set T-Mobile back a pretty penny. As Mic previously reported, CBS is selling each 30-second adverting slot for a whopping $5 million — which hasn't come as much of a shock to industry insiders and ad buyers who've seen the price of a super bowl ad grow annually by 11.1%. 
As for Drake, his fans have been falling over themselves waiting for the artist's upcoming album, Views from the 6, which Drake followers have now been told to expect sometime in April. In the meantime, after studying Drake's winning smile in the T-Mobile commercial, we can almost forgive the Toronto rapper for making us wait.