Meet the Australian Who Wants to Be the World's First Muslim Professional Ballerina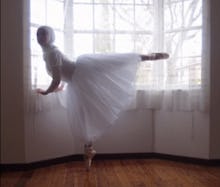 Stephanie Kurlow is not your average teenage girl with a dream of ballet stardom. For one, as much as she practices, she'll never be a "bunhead," a nickname for ballet dancers, owing to their preferred hairstyle.
The 14-year-old Australian is Muslim, making her one of the most prominent hijab-clad ballet dancers around, and she refuses to let her faith get in the way of her life's goal: to dance professionally.
Kurlow, who has been dancing since she was 2 years old, converted to Islam along with her family in 2010. And while she embraced the life change, she worried her new faith would be incompatible with her dancing aspirations. Wearing a hijab and non-formfitting clothes created challenges, and Kurlow could not find a dancing school willing to adapt to her constraints.
But she's decided she won't stop until she's accepted into a school and just started a LaunchGood campaign to crowdfund a year's tuition at a professional dancing school, which will accept her unorthodox requirements. 
According to her fundraising page, she's still seeking such a school, but also expressed a dream to start her own "diverse performing arts academy" for those facing similar discriminations. "This school will have special programs for specific religions, support groups for our youth and people who are from disconnected communities," she writes. 
Converting to Islam "brought so many positive aspects in my life, but I stopped performing because we thought there would be no way of myself becoming a professional ballerina as there were no facilitations or services targeted at Muslim girls," she adds. 
Kurlow lives with her Australian father, Russian mother and siblings in Campsie, a suburb of Sydney. If she's able to meet her goal of $10,000 AUD (around $7,000), she'll train full time at a ballet school, dancing 30 to 45 hours per week. As of this writing, the campaign, launched Jan. 27, has brought in roughly $740.
Kurlow noted the recent rise in professional sportswomen of color inspired her to pursue her dream. The emergence of leading female African-American ballerinas, such as Michaela DePrince and Misty Copeland, and hijabi Emirati weightlifter Amna Al Haddad, also a first, have encouraged her to persist. 
"I've gotten those looks or those little whispers from people saying that I can't do it, and there are some parts of the ballet world that only see me for the clothes I wear or the beliefs I have," Kurlow told the Sydney Morning Herald.
"But this means everything to me. I think I can bring people together through dance and inspire some young people from different races that might be a bit disengaged."