Here's Why Rita Ora Is Being Sued by Jay Z's Roc Nation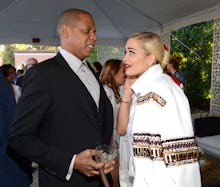 Kevin Mazur/Getty Images
For anyone unaware who Rita Ora is, her recent legal problems with hip-hop mogul Jay Z may seem awfully confusing. Even fans of the 25-year-old British recording artist are wondering why she was recently slammed with a lawsuit by the rapper's record label Roc Nation. 
However, it's all just business — according to Ora's lawyer, at least. "Jay Z has personally and graciously promised Rita complete freedom from Roc Nation, the details of which are now being finalized," attorney Howard King said in a statement, according to MusicNews. So why the bad blood? "We believe that Roc Nation's distributor, Sony Music, has required Roc Nation to file this action to preserve whatever rights Sony might have pending resolution."
Read more:
It's not all fine and dandy behind the scenes at Roc Nation, where Ora has been signed as a performer since 2008. As Jay Z's latest female prodigy from overseas, Ora was once destined for great commercial success in the United States, following the footsteps of Barbadian artist Rihanna. Ora signed a contract requiring her to release five albums throughout her time with the label, essentially locking in the beginning of her international career with Jay Z's record label.
Instead, Ora has only released a single album since joining Roc Nation, dropping her first studio album in 2012, titled Ora. Save for a few singles, Ora has since disappeared, and hasn't released another album or mixtape since. And Roc Nation is definitely not happy about it.
Jay Z's music label is demanding over $2 million it spent allegedly helping Ora produce her sophomore studio album under Roc Nation, as the project hasn't come to fruition. Roc Nation's court papers, which were filed shortly after Ora sued the label for proprietorship of her music, state those funds "were instrumental in guiding Ms. Ora to her current level of success and fame," and that the label spent millions in supporting Ora's career.
Ora complained in her court filing to the Los Angeles Supreme Court on Dec. 15 that Jay Z's label wasn't interested in piloting her career any longer. Ora's attorney wrote the following:
When Rita signed, Roc Nation and its senior executives were very involved with her as an artist. As Roc Nation's interests diversified, there were fewer resources available and the company suffered a revolving door of executives. Rita's remaining supporters at the label left or moved on to other activities, to the point where she no longer had a relationship with anyone at the company.
At best, the situation can be described as a mutual separation. Meanwhile, Jay Z's Roc Nation is trying to hold on to what little music it was able to squeeze from Ora, who has become more of a fashion icon than a recording artist in the U.S.