Young Voters Are the Most Important Part of Bernie Sanders' Coalition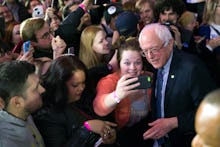 Hillary Clinton won the Iowa caucuses, edging out Sen. Bernie Sanders in the delegate count and becoming the first woman to capture the first-in-the-nation contest.
Clinton's slim victory was the closest in Iowa caucus history — many precincts did not report results until late into the night, and some flipped a coin to pick a winner.
However, when it came to young voters, the 2016 Iowa caucuses were not even a contest — Sanders won in a landslide:
Suddenly, an outcome considered unthinkable just one year ago, when a self-proclaimed democratic socialist who was virtually unknown nationwide and polling at only 7% in Iowa, seems indeed possible. Sanders' political revolution is gaining traction, and it's in large part thanks to millennials.
Striking parallels to Barack Obama: In 2008, when then-Sen. Barack Obama won Iowa in a major upset, young caucusgoers aged 18 to 29 sided with Obama over Clinton by 46 percentage points. Obama also managed to shatter all Democratic turnout records, getting 240,000 people to come out and caucus.
The big question going into Iowa was whether Sanders would be able to get young people, many of whom are first-time voters, to show up.
Sanders answered that challenge loud and clear. While turnout was slightly down from 2008, an impressive 171,109 Democratic voters still showed up, and among youth voters, Sanders swept the table. Sanders won 18 to 29 year-olds by a stunning 70 points, according to entrance polling.
Young people have spoken. Although Clinton continues to lead by a wide margin in polls nationwide, Sanders has polled remarkably well with young voters throughout the 2016 campaign. Surprisingly, Sanders held a nearly 20-point edge over Clinton among young women in a USA Today/Rock the Vote poll conducted in mid-January.
Many factors have contributed to Sanders' millennial surge (not the least of which is the fact that, in one 2014 survey, 42% of millennials actually said they think socialism is preferable to capitalism). Sanders has made young voters one of his clear priorities, regularly participating in youth town halls across Iowa in the leadup to the caucuses, alongside online Q&As and outreach to supporters on sites like Reddit.
Of course, Sanders' path to victory from here gets much more complicated. Sanders is almost certain to win New Hampshire, where polls show him leading by double digits. But there isn't another obvious state where Sanders can win big. Clinton remains the favorite in the next two contests in Nevada and South Carolina, as well as the host of southern states that will vote in March.
Clinton also has a seismic advantage amongst "superdelegates," elected officials and party members who are free to throw their weight behind the candidate of their choosing at the national convention. Sanders most likely needed to have won big Monday to truly change the course of the election.
But momentum has a way of taking on a life of its own, and if there is one lesson from Obama's 2008 victory, it is that young people can change the course of a campaign. Iowa, coupled with a victory in New Hampshire, could give Sanders a significant fundraising bump. Just as it did for Obama, Sanders' Iowa performance could motivate notoriously fickle millennial voters to get more engaged and show up in more meaningful numbers in future contests.
Whether any of that will pose a true challenge to Clinton, who has an experienced team and an impressive ground game, remains to be seen. But one thing is clear coming out of Iowa: Clinton will need to focus on millennial voters, and fast, in the coming days.