Bill Cosby Wasn't Found Not Guilty — What to Know About His Ongoing Sexual Assault Case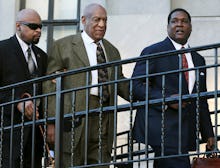 Mel Evans/AP
Bill Cosby arrived in Norristown, Pennsylvania, on Tuesday for his first hearing since being charged in December with sexual assault. So why are so many saying Cosby has beat "the case"?
In January, a federal judge in Pennsylvania granted Cosby's motion to dismiss a defamation lawsuit, according to CNN. This win in court may have been the source of confusion. Three claims against Cosby were dismissed, after the judge ruled that the statements "do not support a claim for defamation as defined by Pennsylvania law." The defamation lawsuit was filed by Renita Hill, one of the women who came forward to accuse Cosby of assault. 
Prior to Cosby's pre-trial hearing on Tuesday, the comedian had not previously faced criminal charges, even though dozens of women have come forward to accuse Cosby of sexual assault. 
Many on social media have been quick to proclaim Cosby's innocence, well before the comedian's first day in court. 
Read more:
Cosby, 78, was charged with the aggravated indecent assault of Andrea Constand, a former Temple University employee. Constand, unlike the multiple women who have come forward against Cosby, is the only woman who was able to bring her charges within Pennsylvania's 12-year statute of limitations. Cosby has maintained that any sexual act with her was consensual. 
However, Tuesday's hearing had two focal points: According to ThinkProgress, Cosby's legal team is seeking to have Judge Steven T. O'Neill either throw out the entire case or make Cosby's admission of obtaining Quaaludes for sex with women inadmissible in court.
The other focal point revolves around Bruce L. Castor Jr., who was the Montgomery County district attorney when Cosby was accused of sexual assault in 2004. Castor decided against bringing charges against Cosby in 2005, and according to Cosby's legal team, agreed he would not prosecute the comedian, USA Today reported. 
Judge O'Neill expects the case to go into a second day, but three things can happen: O' Neill can dismiss the entire case, continue with Constand's case, but rule the 2005 Cosby deposition inadmissible, or allow the case to move forward with Cosby's deposition to be used in court, according to ThinkProgress.
If found guilty, Pennsylvania law will require Cosby to serve a maximum sentence of five to 10 years in prison and pay a $25,000 fine.