Massachusetts Rep. Katherine Clark Was Swatted for Trying to Criminalize Swatting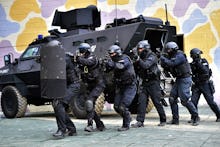 Massachusetts Rep. Katherine Clark was settling in to watch Veep with her family when the police barricaded her street on Sunday night. 
"As I came out on my front porch, there were police on the lawn, cruisers cutting off the street, and some of the officers had long guns out," Clark told Mic. "Two officers approached me immediately and said there was a report of an active shooter."
She knew what was going on. Clark had just become a victim of the exact prank she's trying to criminalize nationally.
This is called swatting. It's the hottest — and most dangerous — prank on the web. Swatting is when a prankster calls a police department saying there is a kidnapping or murder at a particular address, sending police to bust down the door and arrest everyone inside. In Clark's case, someone used a computer-generated voice to call into the Melrose police and say there was an "active shooter," the Boston Globe reports. 
Had Clark's prankster gotten his or her way, the police would have made it right into Clark's living room, guns raised and ready to make arrests. That's how most of these swatting pranks — most commonly found in the gaming community — end, with someone face down on the ground and in handcuffs.
Clark's anti-swatting bill: The bill, called the Interstate Swatting Hoax Act, makes it a federal crime to use "false communications with the intent to create an emergency response, and for other purposes," punishable by up to five years in jail.
Swatting is a drain on police resources, costing thousands of dollars to deploy teams of officers with the best equipment that the American police force has to offer. But the real concern isn't the wasted cash — it's safety. Legislators worry that someone could get killed by the police while barging in to arrest someone innocent.
"These hoaxes are dangers not just to intended victims, but to law enforcement and the communities where they occur," Clark told Mic. "We want to make sure that every family is protected, even when there isn't a member of congress on the front porch."
Clark said she hopes that by the end of the congressional session in July, the law will have been passed with bipartisan support. "We're more determined than ever to move forward with the legislation," she said.