Is Beyoncé Releasing an Album at the 2016 Super Bowl? Rumors Have the BeyHive Buzzing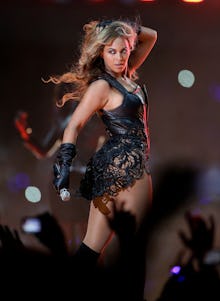 Mark Humphrey/AP
The BeyHive is buzzing about a possible album drop from their queen, Beyoncé. Not only that, but the rumors are all focusing on one specific date: the 2016 Super Bowl, where Beyoncé will be co-headlining the event with Coldplay. If the "Flawless" singer does release an album on Sunday, she would be following in Beyonce's footsteps, her 2013 album that dropped without any advanced notice or marketing and stopped the world in its tracks. 
"Beyoncé doesn't have the pressure of releasing an album and is doing bits here and there because she and her team know it is Adele's time to shine," an "insider" said, according to the tabloid U.K. newspaper The Sun. "Now Adele's sales are starting to die down, Beyoncé is ready to drop her album at any time. But there's a very strong chance the announcement could happen during the Super Bowl next month."
Read more:
Nobody from Beyoncé's team has publicly confirmed or denied new music being released on Sunday night. Similarly, the singer, who keeps a rather low profile on social media compared to many other celebrities planning major releases, hasn't responded to rumors that she may announce a tour after the 2016 Super Bowl.
However, reports have surfaced the queen of hip-hop was shooting music videos throughout New Orleans with her husband, music mogul and rapper Jay Z. It would appear the two might be working on some secret projects — just as they did for their joint On The Run tour throughout the summer of 2014. 
Coldplay recently released a music video for the group's latest single, "Hymn For The Weekend," just weeks before the group takes over the Super Bowl halftime show. The video shows Bey in all her glory, donning several eccentric traditional outfits, though some have said she seems to be culturally appropriating rather than appreciating.
As news of a possible album release reached Twitter's public consciousness, chaos basically ensued: