Who Writes Taylor Swift's Songs?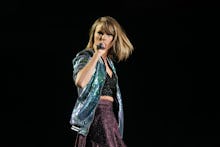 Graham Denholm/Getty Images
Though Taylor Swift was known for writing breakup songs when she came into the limelight as a young country music artist 10 years ago (the 26-year-old wrote her first song at age 12), it's natural to assume she started hiring people to write her music somewhere along the way to becoming one of the world's most affluent pop artists — but she didn't. Swift at least co-wrote every song off her five lucrative albums, according to music credits on iTunes. She was the sole writer of many songs including the entirety of her album released in 2010, Speak Now.
British singer-songwriter Imogen Heap co-wrote Swift's "Clean" off her latest album 1989 and admitted she held the preconceived notion that Swift didn't write her own music. "I had assumed Taylor didn't write too much of her own music (as is the case with many young, extremely successful artists these days who sell a shed load of records), and was likely puppeteered by an aging gang of music executives," she wrote in a 2014 blog post.
Read more:
Heap said she was mistaken, and gave Swift "all the credit" for the ballad. "Felt I wanted to share the experience, as it was a special one," she wrote. "I've also been reading the odd report or tweet here and there that the reason the lyrics to "Clean" are so good is because I wrote the song with her but for sure they are all hers she deserves all the credit."
Here's a summary of the writing credits for each of Swift's five studio albums:
1989: Swift co-wrote most of the music on 1989 with producer-songwriters Max Martin and Shellback (real name Karl Johan Schuster). One Republic frontman Ryan Tedder also helped her write the album's opener "Welcome to New York" and "I Know Places" and musician-songwriter Jack Antonoff (of Bleachers, Fun) co-wrote "Out of the Woods" and "I Wish You Would" with Swift. 
Red: Martin, Shellback and several other songwriters, including Ed Sheeran who recorded a duet with Swift on "Everything Has Changed," helped Swift write a few of the songs off her third EP Red but Swift wrote many of the songs herself. Songs on the album credited to Swift alone include "Red," "I Almost Do," "Stay Stay Stay" and five others. 
Speak Now: Swift wrote her entire Speak Now album herself. She wrote "Sparks Fly," one of the tracks off the album, at 16 years old and re-worked it before it landed on the 2010 EP. 
Fearless: She solo wrote more than half of the tracks on her second EP Fearless, with help from country music songwriter Liz Rose on a few of the songs including hits "White Horse" and "You Belong With Me."
Taylor Swift: Swift released her first, self-titled EP when she was 16 years old and wrote three of the songs herself, including "Our Song," which she wrote for her high school talent show. Rose helped Swift on the rest of the tracks including "Teardrops on my Guitar" and "Picture to Burn."